May the wind take your troubles away
May the wind take your troubles away
Both feet on the floor, two hands on the wheel,
May the wind take your troubles away
"Windfall," by Son Volt
"Windfall" was written 25 years ago by Jay Farrar of Son Volt, a fine Americana band whose music I haven't listened to in years. It popped up in one of the mixes that Spotify creates based on what else I have been listening to. The song is partly about taking a road trip and trying to catch a radio station's signal while driving in the boonies.
Most mornings, I switch from Red River Radio to Spotify once "Morning Edition" ends. Spotify's playlists have introduced me to talented singer-songwriters I have not heard before, mixed in with my perennial favorites — John Prine, Lucinda Williams, Nancy Griffin and Jason Isbell, to name a few. That's how Son Volt crept back into my audio picture. "Windfall" gets played at least once a day. It fits the times. Plus, it brings back sweet memories of past road trips and vacations with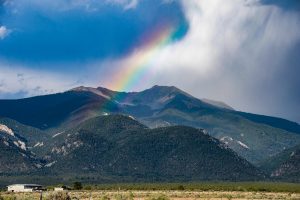 My Beautiful Mystery Companion and daughter Abbie:
On our first trip to Taos, New Mexico, two summers ago, we were winding our way back to the condo rented a few miles south of Taos Ski Valley. Late nearly every afternoon, a thundershower sweeps through in mid-summer. We had waited out the latest round of showers dining outside under cover, listening to a talented singer-songwriter as the rain dripped off the awnings. As we began the 30-minute drive back to the condo, the highway ran through pastureland with the Sangre de Cristo range in the background. A rainbow briefly popped up over the mountains. All felt well with the world, at least for the moment.
On a return trip last summer, we hiked in the Rio Grande del Norte National Monument in Embudo, New Mexico. We trekked the Little Arsenic Springs trail to the confluence of the Red River (a different waterway from the river that partly divides Texas and Oklahoma) with the Rio Grande del Norte. Its headwaters are not far north, across the line in Colorado's San Juan mountains. The Rio Grande in northern New Mexico scarcely resembles the largely placid waterway that divides Texas and Mexico, more than a thousand miles south. It carves an 800-foot gorge through the land, a fast-rushing, wide river. It was a majestic sight, seeing where those two rivers joined.
 Now and then it keeps you runningIt never seems to die
The trail's spent with fear
Not enough living on the outside
A dozen years ago, in the first year of our courtship, we loaded up and headed to Far West Texas. My BMC and daughter Abbie had never been to West Texas. A friend at the time owned the Alpine Avalanche newspaper, whose office had a lovely loft above it, which he generously loaned us for a week. That was our home base as we explored. I recall the look of horror on my traveling companion's faces when we passed through Midland and Odessa — flat country with trash and tumbleweeds plastered against barbwire fences alongside the interstate. "I promise, it gets prettier," I said. It did, of course.
We visited Big Bend, spent a lovely evening looking at the stars through telescopes at McDonald Observatory in the Davis Mountains, ate lunch in Marfa, had a drink at the Gage Hotel in Marathon. We traveled the Wild Rose Pass, the highway between Fort Davis and Marfa, which is one of the prettiest stretches of road in Texas. Nice memory of that first year of us being together as a family.
There are many other memories — Pacific Northwest, Asheville, Memphis, New England, Broken Bow, Washington, D.C. My BMC and I began to reconstruct a timeline a few weeks ago of our many trips but got sidetracked. We need to get back on that project.
There will be no road trips this summer, and probably not this autumn either, since there is no reason to believe COVID-19 is just going to disappear, as our delusional president claims. In early June, we briefly began plotting a return to Taos but quickly abandoned that notion as cases started spiking — and continue to do so.
So we're homebound with great memories of past adventures and hopeful to hit the road again once a vaccine is developed. It's a minor inconvenience in the great scheme of things.
 Never seem to get far enough
Staying in between the lines
Hold on to what you can
Waiting for the end
Not knowing when
May the wind take your troubles away
May the wind take your troubles away
Both feet on the floor, two hands on the wheel
May the wind take your troubles away
Leave a reply
Fields marked with * are required