AMSTERDAM — This is the Bicycle Capital of the World, a fact quickly brought home by a three-story parking garage solely for bikes outside Amsterdam Central Station, with 10,000 parking spots. We took a high-speed train from Hürth, Germany to here. We (me, my Beautiful Mystery Companion, daughter Abbie, daughter Mere and son-in-law Matt, who live in Hürth) sprung for first-class tickets for the three-hour ride and essentially had a private cabin with ample legroom and minimum hassle. I will take a train over a plane anytime, if possible.
Nearly all sidewalks in Amsterdam have bike lanes on the outside half. One quickly learns to not cross the bike lane without looking, since the cyclists often come in waves. The iamsterdam.com site estimates there are 881,000 bikes in this city, roughly one for every man, woman and child. Amsterdammers (that is what they are called) peddle two million kilometers daily, and 58% of residents older than 12 do so daily. Cold weather seems to do little to thin the traffic.
We rented, through Airbnb, a three-bedroom condo in a central location from which we could walk most anywhere. The condo was above a store selling hair extensions and next door to a tattoo shop which boasted a sign the width of the storefront: In God We Trust. Everybody Else Pays Cash. Getting to the condo required climbing three flights of nearly vertical stairs. We wisely left our luggage back at our German hotel and just carried backpacks for this three-day visit. It would have been impossible to haul our large suitcases up those steps. Each trek up and down those steps struck me as a dance with death. It made for an even more interesting journey.
Amsterdam is the most lively and energetic city I have ever visited, filled with young people, crisscrossed with canals, a city where both marijuana and prostitution are legal, home to  the Anne Frank House, as well as the famed Rijksmuseum, both of which we visited. We skipped the red-light district.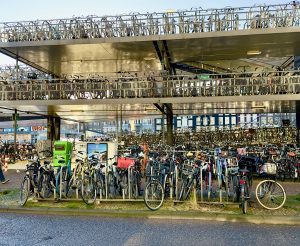 |———|
The Anne Frank House is a 17th century building along the Prinsengracht canal in central Amsterdam. It originally was a residence but later became a warehouse and then home to several businesses, including by early 1940 that of Otto Frank's company trading pectin, a gelling agent for making  jam. When the Nazis in 1942 began deporting Dutch Jews to so-called labor camps, he hid his family in the rear of the building behind a hinged bookcase that served as a door to a hidden room. Eight people hid on the top floors of the annex, including Anne, then 12. She began writing her famed diary and pasted pictures from magazines on the wall, which are still there.
Two years later, on Aug.4, 1944, police raided the building. All were deported to first to the Auschwitz-Birkenau concentration camp. Anne and her sister, Margot, were sent in early November to the Bergen-Belsen camp, where both died of typhus in February 1945.
No photos are allowed inside the museum, which is how it should be. One tours with an audio set held up to your ear like a cell phone. A recording explains what you are looking at as you make your way through the building, eventually into the secret room. This is a sacred space, a testament to a young woman's courage and tenacity and also to how easily evil can prevail.
|———|
The next day, we bundled up and headed to an eclectic market several blocks away, keeping eyes out for cyclists. It became obvious that pretty much everyone in Amsterdam, which is a major financial center for Europe, speaks English. That certainly made communication simpler. While son-in-law Matt has become fluent in German in their year there, Dutch is another matter.
This was not a Christmas market, as we visited in Germany. Vendors sold fish, remarkably fresh produce, headphones and chargers, all manner of clothing — both new and used — and even LP albums. Mere and Matt bought three to take home.
After, we walked to the Rijksmuseum, the national museum of the Netherlands, dedicated to Dutch art and home to works by Rembrandt, Van Gogh and Vermeer. The building itself is remarkably beautiful, notwithstanding the thousands of priceless works it contains. From the top floor, we looked over a railing at four floors of books and archives, while researchers worked at tables below, whetting this humble archivist's appetite. At the end, like all good tourists we raided the gift shop, where I managed to sneak in a purchase for my BMC's Christmas stocking.
The final morning in Amsterdam, I climbed yet another flight of stairs, unlatched the roof's cover and stepped onto the roof. The sun was just starting to rise. The streets were quiet since it was Sunday, and the shops below were still closed. In a few short days, I had grown to love this place.
Leave a reply
Fields marked with * are required