HÜRTH, GERMANY — Germans love their Christmas markets. Over eight days, my Beautiful Mystery Companion, daughter Abbie, and I browsed, nibbled, sipped and gawked our way through towns in and around our temporary headquarters — a pleasant hotel a five-minute walk from daughter Mere and son-in-law Matt's apartment in Hürth. That city adjoins Köln (Cologne), a much-larger city and home to one of the largest markets in Germany.
Our first Christmas market stop was to the Bonn Christmas market. Most trips started in the late afternoon after Matt got off work and could ably serve as both our driver and interpreter, while Abbie helped him navigate the area's tricky roundabouts. A large ferris wheel and even-larger lighted Christmas tree sent cascades of sparkly light patterns upon the cobblestone streets of Bonn's town center, glistening after a light drizzle — a near-constant feature of German winters.
Bonn is the birthplace of composer Ludwig von Beethoven. A large statue of him in the plaza's center anchors the market. His house is just a few blocks off the plaza. We walked over there. Nobody answered. Apparently, Ludwig was not home. (I used that dumb joke on my Bonn Facebook post, which led to a series of bad puns possibly worth perusing.)
An imposing twin-spire church, the Bonner Münster, dominates the skyline. This Roman Catholic cathedral is one of Germany's oldest, built between the 11th and 13th centuries. It is currently under restoration — apparently a nearly permanent condition of many of Germany's cathedrals.
Next stop was Dusseldörf. As with the other markets we visited from our home base in Hürth, it was less than an hour away. For brief periods, we were on the autobahn, which I learned was not a single highway but a network of more than 8,000 miles across Germany where there is no speed limit. Matt, a careful driver, nonetheless took their newly acquired 2011 Renault up to roughly about 140 km at times — about 87 mph.
There are seven Christmas markets in Dusseldörf; we made it to two. The first had an ice-skating rink, where children glided by while their parents followed on wobbly legs. We decided to celebrate with a bottle of champagne safely split among five of us, while we watched the skaters. Just off the plaza we discovered the Düsseldorf Altstadt Glockenspiel, a house whose third floor features a carillon with 18 bells of varying sizes. The bells sound every quarter-hour — a three-story cuckoo clock.
We made it to Brühl while there was still light, taking the bus for a short trip. Matt joined us when he got off work. Brühl is home to the Augustusburg Palace which is also a UNESCO site and is now owned by the state government. It was securely locked behind an imposing gate and protected by a moat, my first to witness in person.
One of my favorite photos of this trip was made here, of a jolly violinist (we're in Germany so he's not a fiddler, I figure) with a Santa Claus beard and belly, playing for change. I took his photo and tossed a couple of Euro coins into his violin case.
In Aachen, my BMC reunited with a dear friend from her days teaching on a military base in England. Her friend now lives and teaches in the Netherlands. Two decades ago, she was Abbie's kindergarten teacher. It was a sweet reunion in the town where Charlemagne, first emperor of the Holy Roman Empire, is entombed in the Aachen cathedral.
On the afternoon of our last day in Germany, we returned to the Köln market. This city of 1 million is home to Kölner Dom — the world's largest twin-spire cathedral. It is Germany's most visited landmark with an average of 20,000 people each day walking inside its magnificent doors. Construction of the cathedral began in 1248, with several stops and starts before construction was completed in 1880, more than six centuries later. Even now, scaffolding covers one side of the cathedral. The interior took our breath away: countless elaborately carved wooden altars, marble tombs, stunning stained-glass windows.
The Köln Christmas market surrounds much of the cathedral's grounds. The stalls in all markets are elaborately built out of wood, with singing reindeer and other Yuletide creatures decorating the area above the stalls. All manner of elaborately carved wooden creations, ornaments, knitted scarves and hats and other festive items are for sale. Christmas music fills the air. On our first visit to the Köln market after a three-day detour to Amsterdam, the wind was bitterly cold. Even the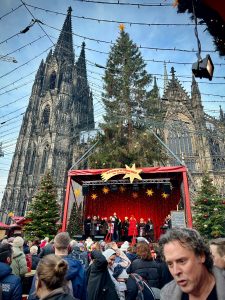 warmth of glüwein — a delicious, mulled wine — couldn't cut the chill. But we returned the afternoon before flying home to a balmy 50-degree day in Köln, where we enjoyed Yuletide carols being sung by a choir without us having to be dressed as Eskimos. The choir made up with enthusiasm what they lacked in singing ability.
On our final evening in Germany, before a 4 a.m. alarm would force us to the airport for an early flight, we headed to Essen for the largest market in the area. First, we toasted Matt's upcoming birthday with a visit to a renowned steakhouse that would have fit well in Dallas or Houston. This was our last chance to buy souvenirs. As always, here is where we end up going over the baggage weight limit. On this outing, I concentrated on photographing the market workers — the woman with thousands of cookie cutters, the fellow from Israel selling hand-carved nutcrackers while bad-mouthing the mayor of Chicago where he once lived, the young man slicing the World's Best Fries from freshly harvested potatoes.
All the markets were similar, but all were different as well. A common denominator was the food and beverages available. Gluwein was a constant, a mulled wine served in either tall, skinny glasses or festive coffee mugs. One paid a 1 or 2-mark deposit on the mugs, which was refunded when returned. For food, there were delicious sauteed mushrooms, and a wonderful pizza-like dish called flammkuchen, both of which we loved. The fried fish, called fischer backfisch, was wrapped in a thick piece of bread. It paired nicely with Köln's signature beer, a Kolsch. And sausage. Lots of sausage.
The Christmas markets are such joyous places. It is impossible to be in a bad mood while meandering about a German Christmas market, a Weihnachtsmärke.
Merry Christmas, my friends.
(Next week: Amsterdam)
Leave a reply
Fields marked with * are required