It is time to review what books I read in 2021. This is the third year I have used Goodreads, a social media app, to keep track of spines I cracked during the year. Before, I would diligently write down the titles and authors in a notebook. My daughter Mere suggested Goodreads, which is free and easy to use. Users can become "friends" with others, see what they're reading, join discussion groups and write reviews.
I do none of that, confining my use to keeping track of what I read. So here we go.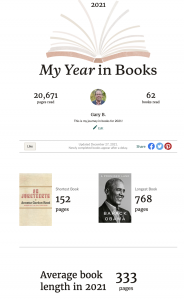 Goodreads announced at year end, I had completed 62 books for a total of 20,671 pages. The previous year, I read 56 books and about the same number of pages. I guess I read some longer books in 2020. The longest book I read last year, weighing in at 768 pages, was A Promised Land, by former President Barack Obama, the first installment of his memoirs. Obama is an exceptional writer, self-deprecating and funny, able to cast a reflective eye on his presidency. Very few politicians can do that, or even try.
The shortest was On Juneteenth, by historian Annette Gordon-Reed, at 152 pages. Reed is a Harvard professor and historian, who grew up in Livingston, Texas, in what is known as Deep East Texas. She won a Pulitzer in 2009 for her work on the Hemings family of Monticello. Sally Hemings, an enslaved Black woman, bore six of Thomas Jefferson's children. On Juneteenth examines Reed's personal experiences with racial justice as well as that of her native state.
Other memorable books from 2021:
His Truth is Marching On: John Lewis and the Power of Hope. Lewis, who died in the summer of 2020, became almost a mythical figure in the fight for racial justice after nearly dying on the Edmund Pettis bridge in Selma, Alabama. One of American's finest history writers produced a compelling biography of this American icon. Meacham's The Soul of America: The Battle for Our Better Angels was one of the last books I read in December. He attempts to help us understand the present fraught political times in America by looking back at critical times when hope overcame fear and bitter division.
The Premonition: A Pandemic Story by Michael Lewis portrays a band of medical heroes, as he calls them, who fight the "wall of ignorance that was the official response of the Trump administration to the outbreak of COVID-19," as the Goodreads description puts it. Lewis is adept at explaining complicated situations, and The Premonition is no exception.
From the River to the Sea: The Untold Story of the Railroad War That Made the West by John Sedgwick. After watching Hell on Wheels, a television series based on building the railroad and the brutality that engulfed it in almost every aspect, it was time to read a nonfiction account. The construction of the first transcontinental railroad in large part involved the decade-long battle between Gen. William J. Palmer and William Barstow. Sedgwick tells the tale in armchair gripping fashion. It's a great read.
On the fiction front, I finished a quartet of novels by Marilynne Robinson: Gilead (read in 2020), Home, Lila, and Jack. All are based in the small Iowa town of Gilead and revolve around the same set of small-town characters. Robinson is one of the finest novelists of the past 50 years or more, in my view.
Jane Smiley's Perestroika in Paris is the charming tale of a spirited racehorse who escapes one day when the stall is left open and goes exploring the charms and attractions of Paris (France, not Texas). She meets a German short-haired pointer named Frida and then a little boy named Etienne, who hides the two in his blind grandmother's house. This is a gentle, sweet novel, an excellent escape from reading about pandemics and railroad barons.
That's just a small selection of what I finished in 2021, and it's on to a new list for 2022. You can find the complete list at: https://tinyurl.com/4hwfrr66.
Happy reading!
Leave a reply
Fields marked with * are required