It is late August, and the Boston Red Sox are leading the American League Eastern Division. My hopes are rising. I can't help it. It is in my DNA.
Three weeks ago, we sat five rows behind home plate at the shrine — Fenway Park — thanks to my generous Beautiful Mystery Companion, who bought us premium seats as an early birthday present. "If we're going to Fenway, we might as well sit close," she said. I like the way she thinks. We were close enough to see the sweat on the home plate umpire's brow when he removed his mask. The umpire was a large man loaded down with protective gear. The weather was actually perfect — 70 degrees, low humidity, a bit of a breeze.
The first three rows are reserved for high-dollar season-ticket holders. A young woman with a menu kept coming by and taking drink and food orders from folks seated in those rows. I had to get our own beers and hot dogs, which was not an undue burden. We were in Fenway with stellar seats, the best I've had in 50 years of attending games here. Sitting in this park, looking at the Green Monster, the lighted John Hancock sign over center field, listening to the familiar chant of "Let's Go Red Sox!" It always feels as if I have come home.
Actually, I think my dad brought me here before 1967, but that is the most memorable game, one worth retelling a half-century later. It was the season of the Impossible Dream, and any Red Sox fan who was 6 or older at the time has it seared into memory. The Red Sox had finished ninth the season before and had not won a pennant in 21 years. But this season was different. Led by Triple Crown winner Carl Yastrzemski in left fiel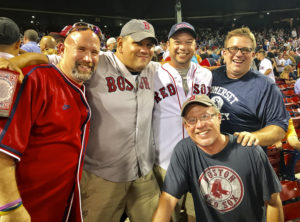 d, shortstop Rico Petrocelli, pitcher Jim Lonborg and others, the Sox came into the season's end battling neck-and-neck with the Minnesota Twins, who came to town for a season-ending series.
One player no longer in the lineup was Tony Conigliario. The 22-year-old All-Star on Aug. 18 had taken a fastball to the cheekbone, before helmets had face protectors, damaging a retina, shattering his checkbone and dislocating his jaw. He never recovered, though he attempted a comeback two years later. Tony C., after retiring, had a heart attack and stroke, was in a coma for several years and died at age 45. Terribly sad story.
In 1967, we had tickets in the right-field bleachers for the season's next-to-last game, thanks to my dad's foresight. He bought them at the beginning of the year, never imagining the Sox would be in a pennant race. My brother Scott, best friend Bruce Courtemanche, me and our dad sat in the bleachers. Bruce and I held up a banner we made in hopes of getting on television. I don't think we succeeded.
The Red Sox had to sweep the Twins to win the pennant, and they did, led by Yaz's torrid batting. Alas, they lost the World Series to the Cardinals in seven games. It would take another 37 years before the Red Sox were World Series champs, with two more unsuccessful attempts before the 2004 championship that finally ended the Curse of Babe Ruth. They won again in 2007, and I was in Fenway for the first game, and again in 2013. I watched the latter on television.
All those memories — a half-century's worth of rooting for this team and looking forward to being inside this stadium — swept through as we settled down to watch the game against the Kansas City Royals. In the front row, an elderly woman wore an elaborate Carmen Miranda-style hat festooned with miniature batting helmets, topped with a replica of Fenway's field and several Red Sox players. She cheerfully posed with folks for selfies.
Right behind us a quartet of friends from Rhode Island kept up a constant stream of banter, heckling the opposing team's players. One batter with a bleached-blonde man-bun was nicknamed Milli Vanilli. The guys insulted each other regularly. They began calling us "Texas" when they found out where we lived — though I was quick to claim my New Hampshire origins. After the game, I joined our new friends for a group photo. As daughter Abbie said, it was like sitting in front of Tom and Ray from NPR's "Car Talk."
Alas, the Sox lost, 4-2, but that hardly put a damper on the grand time we had in Fenway. The team fell out of first place to the hated Yankees that night. Since then they have been on a torrid streak, winning 13 of their last 15 games. They are solidly in first place, but there are 42 games remaining in the next six weeks. Anything can happen, as Red Sox fans have long known.
A few days earlier, we had visited the Boston Museum of Fine Arts. Downstairs, encased in glass was a tribute to David Ortiz — Big Papi — who retired last year. His three World Series Championship rings were on display. His retirement left a big hole, but baseball goes on.
As my Aunt Irene said yesterday to a Facebook post, "Go SOX!"
Leave a reply
Fields marked with * are required