EASTERN TOWNSHIP, QUEBEC — Christiane, the raconteur for our Three Pines Tour, arrives at exactly 8 a.m. at our auberge in Sutton, one of the towns in the Eastern Township, which starts about a dozen miles north of the Vermont-Canada. While French is the dominant language in Quebec, this area in large part was settled by Loyalists (as they were called) to Britain in the American Revolution, so English is also commonly spoken.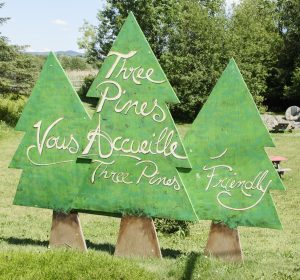 Chris, as she prefers to be called, spent 35 years working for the Royal Mounted Canadian Police in their counter-terrorism division. After retiring, she ended up helping the company's owner conduct these tours. For an entire day, she will take us to several places that were fictionalized in Louise Penny's murder mysteries — the Chief Inspector Gamache series, which are generally set in the Eastern Township, with occasional forays into Montreal and Quebec City.
The Gamache murder mystery series now numbers 17 with another coming out this fall. They are wildly popular and deservedly so. As British mystery writer Ann Cleeves puts it, Penny is "a crackling storyteller." Penny also cowrote a political thriller with Hillary Clinton, titled State of Terror. Taking a tour that visits some of the places (under pseudonyms) that appear in the Gamache series seemed like a cool way to get reacquainted with the Eastern Township, which is where my mother's family emigrated from to New Hampshire. There are likely some (very) distant relatives of mine, with surnames of Bourque or Prévost, living around here.
The Three Pines tours have been a boon to the tourist industry in the Eastern Township. Most of the tours consist only of the raconteur — there are currently four — and a married couple, maybe two. It's quite an intimate experience. Here are a few of the places we were privileged to visit:
Georgeville is a hamlet on Lake Memphrémagog, which spans both Vermont and Canada. It the real-life home of the Old Mansion House, a 5,000-square-foot mansion built in 1888 as a stagecoach inn. It now a vacation rental home, so we couldn't tour inside. In Penny's The Cruelest Month, it is the creepy and decrepit Hadley House, scene of a murder during a séance. In the series, despite its dark past, Hadley House is eventually renovated into a posh spa. A subsequent mystery, The Brutal Telling, involves the Hadley House once again. Of course, there's a body involved.
The actual Old Mansion House is hardly foreboding, since it's painted pink and wrapped with stately porches. It looks like a wonderful place to spend the summer.
Mr. Beliveau's General Store in The Cruelest Month and other volumes is based on Magasin General Georgeville, a lovely store with a stamped-tin ceiling, inviting front porch and patio. Chris, our raconteur, insists on buying us each a croissant and latte, both of which are prepared to perfection. I suspect we shall eat well throughout this tour, much as Inspector Armand Garmache does while staying in Three Pines at the bed and breakfast, and dining at the bistro. The bistro in Three Pines, by the way, is a combination of bistros scattered throughout the Eastern Township, according to Chris.
In A Beautiful Mystery, a murder occurs inside a secret garden in the Saint-Gilbert-entre-les Loups Monastery, the latter of which translates to "among the wolves." The inspiration for it is the majestic Abbaye de Saint-Benoît-du-lac, a Benedictine monastery on the west shore of the aforementioned Lake Memphrémagog. We arrive in time for the 11 a.m. Sunday service.The 25 monks here range in age from 30 to 99 years old. We listen quietly and respectfully as they file in before a sparse congregation. The service begins with Gregorian chants, lovely to listen to, then slip out.
We stop for lunch at Au Manoir Hovey in North Hatley, called Manoir Bellechasse and featured in The Murder Stone. The hotel, originally a New York financier's summer home, is on the shores of Lake Massawippi. We sit on the back veranda and are served an amazing lunch: pan-seared halibut on top of grilled asparagus, dill potato salad and a cous-cous relish. The food presentation was almost too pretty to eat, the weather ideal, the view magnificent. This is where Inspector Gamache and his wife, Reine-Marie, go each year for their anniversary. It is also where Louise Penny married her late husband, Michael, a renowned oncologist, inside the library, which remains largely untouched. Floor-to-ceiling books, a huge fireplace, and comfortable overstuffed chairs provide an idyllic place to read on a wintry day. When Hillary comes to visit Penny, she stays here. Not today.
Three Pines is an imaginary village, but the series is based mainly on one of the townships — Knowlton, with its charming bookstore and a sign that declares this township is "Three Pines Friendly."
We end our tour back in Sutton, where we visit a bakery that inspired a boulangerie featured in several of the mystery novels. We buy a fat loaf of bread to take home. Chris then takes us to a different auberge from where we are staying, where we are treated to sparkling wine, parmesan cheese, goat cheese and small slices of bread. I am beginning to wonder if my pants are going to still fit on the plane ride home.
The tour was, in short, magnifique. The Eastern Townships will long hold a dear place in our hearts.
Note: This month marks 40 years since I began writing a weekly column for the San Augustine Rambler, a habit I have been unable to shake. I'm looking forward to the next decade and thanks for coming along for the ride.
Leave a reply
Fields marked with * are required