Willie Nelson, our state's greatest living treasure, turned 87 yesterday. I spent a chunk of the day, as usual, in front of the computer in my study, handling library interlibrary loans online and continuing to compile research while sheltering in place. In honor of Willie's birthday, KUTX — the sister station to KUT, Austin's NPR station — played his music all day and night long. That was my background music. Over the hours that Willie played through the speakers, the breadth and depth of his music stood out, as well as his virtuosity on Trigger, his well-worn Martin N-20 guitar with nylon strings. Over his career, Willie has recorded more than 150 albums, including one just last year titled "Ride Me Back Home."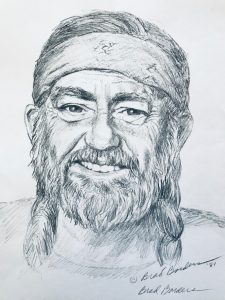 I watched an online performance last week with Willie and his son, Lucas, performing from their living room. As always he opened with "Whiskey River." Man, Willie still has it. Most folks his age — if they make it — aren't out touring several dozen times a year. But that's Willie. Trivia fact: Willie didn't write "Whiskey River." Johnny Bush did, as Willie pointed out in his online show. But the Red-Headed Stranger is the author of such classics as "Crazy," "Angel Flying Too Close to the Ground," "Night Life," and "Blue Eyes Crying in the Rain." And yes, "Red-Headed Stranger."
The last time we saw Willie was in 2014 in an amphitheater at Boston Harbor. It was a serendipitous occasion. We had no idea he was playing in Beantown when we scheduled our vacation but quickly bought tickets. He came on after opening acts Kacey Musgraves and Alison Kraus warmed the crowd up with terrific sets, launched into "Whiskey River," and played non-stop for two hours. I have no idea if we will get to see him — or anybody else, for that matter — perform live again. If that turns out to be the case, I'll be fine. Lots of memories compiled over the years will sustain me. For example:
Back in 2003, daughter Kasey and I decided at the last minute to attend Willie's 4th of July picnic in Spicewood, about 35 miles northwest of Austin. Logistics has often been a failing of Willie's picnics, which have been held sporadically since 1973. The traffic on Hwy. 71 screeched to a halt as we approached the venue. The last 10 miles took about four hours. As it turned out, several of the featured acts were also stuck in the traffic, so the concert, which featured The Dead, Pat Green and Leon Russell among others, got off to a late start. Willie and his band finally took the stage about 2 a.m., as memory serves. It was a long day.
|———|
My dad loved Willie Nelson. During my childhood, his musical favorite was Eddy Arnold, a silver-tongued crooner who hit his stride in the 1960s with "Make the World Go Away." Arnold's music was a bit too elevator-music-ish for my tastes, so I was pleased when my dad switched to Willie Nelson in the early 1970s. One of the funniest arguments I ever had with my dad was over Willie's well-known fondness for marijuana. When I told him, sometime in the 1980s, that Willie smoked weed, he flatly refused to believe it. I even showed him a photo once of Willie smoking a spliff. Long before the term unfortunately became a popular way to dismiss facts with which one doesn't agree, my dad dismissed this as "fake news." I let the matter drop.
During the workweek, my dad supported his family as a commercial artist. Mainly he painted signs with a steady, sure hand, and a dictionary on the dashboard just to make sure he didn't misspell a word. At night, he drew or painted — mainly western landscapes and portraits. My dad drew the pencil drawing of Willie accompanying this piece in 1981. I still have several dozen prints of the original he had made to sell at various venues, such as Longview's Alleyfest.
|———|
I wrote a piece several years ago about Mattie Dellinger, a longtime columnist for the Center Light & Champion, who at the time was still going strong at 101.We met back in 1982 when I ran the paper up the road in San Augustine and had been friends since. Mattie and I talked on the phone in December 2012. (She passed about five months after we talked.)
She recalled the time in the late 1990s she wrote a letter to Willie saying she couldn't stand his music or his long hair. Willie wrote back and said he was going to come to Center to change her mind. He kept his word, and even put on a concert in that small town, in her honor. Willie and his crew once rode around the Center square with his tour bus, Mattie hanging her head out the window and waving to towns folk, to prove it was true that she was friends with the Red-Headed Stranger. When Mattie turned 101, Willie sent her an autographed copy of his autobiography, co-written with Kinky Friedman: "Roll Me Up And Smoke Me When I Die."
Happy Birthday, Willie. Stay well and stay safe.
Leave a reply
Fields marked with * are required