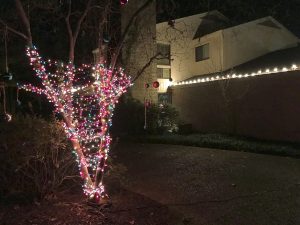 Christmas awaits. The hardwood trees are bare, the grass brown. Our neighborhood is awash with Christmas lights. Driveways are beginning to fill with the vehicles of families coming home for the holidays. As always, my Beautiful Mystery Companion has beautifully decorated our house while I wisely stay out of the way. My job is to hang the lights outside, treading carefully on the roof. I then wrap our outdoor Charlie Brown Christmas tree with 300 feet of colored lights and hang ornaments from the branches. I learned a few years back to caulk the top of each ornament, where the hanger dangles from the cap. Otherwise, the ornaments, which are large, fill with rainwater and crash to the ground.
|———|
About 10 days before Christmas, we watched a performance of A Christmas Carol: A Ghost Story of Christmas at the Alley Theatre in Houston. The tickets to this wonderful story of redemption by Charles Dickens were a present from daughter Mere and son-in-law Matt, who accompanied us. The theatre's lobby was festooned with a dozen or so Christmas trees, each expertly decorated and sponsored by a local company. Our favorite was the Wizard of Oz tree, which was mounted upside down to resemble a tornado. The ornaments all harkened back to the movie from the Tin Man's oil can and Dorothy's red slippers. It was an impressive piece of creativity. The play was stunning. I didn't want it to end.
|———|
Christmas caps a Yule season that — in the retail world — began in mid-October. Christmas decorations were located next to the jack o' lanterns. I hate to be grinchy, but could we at least hold off on Christmas until after the kids are finished trick or treating?
While I am being curmudgeonly, I am strongly opposed to retail stores opening on Thanksgiving Day, a trend that keeps expanding. Thanksgiving is for gorging oneself, then watching football and falling asleep by halftime. Now we have Gray Thursday, Black Friday, Cyber Monday and Giving Tuesday.
I propose adding Cut-Up-The-Credit Cards Wednesday, for those who overindulge and then wake up in January to maxed-out cards at 22 percent interest. Many years ago, I decided to never charge something I couldn't pay off in full when the statement arrived, with the exception of a house mortgage. That's one of the wisest decisions I have made.
The older we get, the more Christmas becomes less about presents and more about time spent with family. You reach a point where more stuff feels more like a burden than a blessing.
|———|
My favorite Christmas decoration is a ceramic crèche that belonged to my parents. It is at least 60 years old, some of the figures chipped in places. There is a hole in the roof in which a Christmas bulb can be inserted, which my mother always did. I prefer to leave it unlighted, reasoning the actual manger didn't have electricity. The entire crèche is only 10 inches wide. Baby Jesus is about the size of a pecan. It sits in my study where I can admire it and remember the many Christmases spent with family and children.
|———|
It has become a tradition of mine to tell this story each Christmas. My earliest memory of Christmas is from 1959 or 1960. I can't be sure if I was four or five years old. We always spent Christmas Eve at my maternal grandparents' house outside of Concord, N.H. a tiny house crowded with cousins on that night. I was lying in my grandparents' bed, looking out the windows, which were narrow and near the ceiling, so you could see the stars.
I saw Santa Claus streaking across the sky and realized I had better get to sleep, or the old man might skip this house. My cousins would really be upset with me.
Sure enough, in front of the fireplace the next morning were gifts from St. Nicklaus. The plate of cookies held only crumbs, and the carrots for the reindeer were gone.
I know. Probably it was an airplane headed to Boston, or perhaps a meteor shower. I prefer to believe it was Santa. Certainly that's what I thought back then.
|———|
I hope your Christmas is filled with family and friends, that you will take time to reflect on the true meaning of this season, perhaps do an act of kindness for a stranger, or possibly accept a kindness from one.
Merry Christmas and God Bless.
Leave a reply
Fields marked with * are required