As I sat in my study the other day in front of the computer screen, reading a digitized issue of the San Augustine Red-Lander from 1841, I heard a loud vehicle outside. At first I thought it was a UPS or FedEx truck. We live at the end of a cul-de-sac, so they pass by often these days making their rounds, as more of us try to stay out of stores and order online. I looked out the window and saw it wasn't a delivery truck but rather the city's street sweeper, making its rounds, picking up the oak clusters and pine tree noodles that carpet the pavement.
The driver made a couple of rounds and soon the asphalt was immaculate. How odd, I thought, this semblance of normalcy during a time of pandemic. I'm glad the driver is still on the job, and it looks like a relatively safe one, ensconced alone in the cab of a street sweeper. It is certainly safer than working a grocery store register, or as a prison guard. Or many other jobs that still must be done, putting employees at risk. Thank you, all.
As I walk our neighborhood daily, the landscape crews are out in force. Leaf blowers, trimmers and mowers hum in unison, sort of, while other workers weed flower beds. There doesn't appear to be a lot of social distancing taking place among the workers. At least they're outside, and certainly they need — and deserve — their wages. At other homes, after walking here the past eight years, I can tell whose homes are being cleaned by housekeepers. Most show up on Thursday, so the home is spotless for the weekend.
Our wonderful housekeeper shows up every other Thursday as well. But not now. We are not allowing visitors until this is over. So every other Thursday, my Beautiful Mystery Companion and I become the house cleaners. I vacuum, mop and clean toilets, while she wipes down counters and dusts. Before we start, I put the housekeeper's money in an envelope and stick it in the mailbox for her to pick up. She shouldn't have to go without pay because we're being cautious.
My modest proposition: Pay your service folks even if they're not coming, if you can afford it. Pay it forward.
|———|
Our four critters provide much-needed diversion. Rosie is the most high-strung of the quartet of two dogs and two cats. She is also the smartest but hates thunder. She starts barking and trembling, so Sam starts barking as well.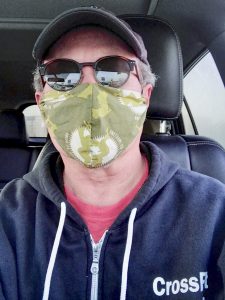 The cats, Tater and Tot, jump and run away from the barking and carryings-on. Mayhem ensues. A few years back I bought Rosie a thunder shirt, which calms her down immediately. Now, at the first peal of thunder, Rosie jumps up on the napping couch in the study (I built it 15 years ago for precisely that activity). She waits patiently as I strap the Thunder Shirt on her, then settles down.
The dogs look at us these days as if to wonder, "Why are the Food People home all the time now?" I know, I am anthropomorphizing.
The other day, both pooches, who usually go to the groomer on the day the housekeeper arrives, got baths from us. Then I trimmed their fur outside with a pair of scissors. They both patiently stood on a bench on our deck while I snipped away.
|———|
A pediatrician I know from the gym recently posted an animated video of a row of matches, the flame leaping from one head to another. Then, one match steps out of the row, and the flame burns out. That's what staying at home, washing one's hands, using hand sanitizer when available and keeping one's distance will eventually accomplish during this scary time. The flame will go out on this pandemic.
I wonder, when this is over, if I'll ever shake someone's hand again. Fist bumping might become the new normal, or touching elbows — though that can be awkward. Last time I tried it, before we went into lockdown, I missed the person's elbow and landed somewhere around the forearm.
|———|
I have been listening to a lot of John Prine's music, the famed singer-songwriter, for the past few days, after reading that he is gravely ill with Covid-19. The latest update from his wife, who has recovered, is that he is stable but still seriously ill. I find his songs comforting and pray he recovers. I pray we all recover.
Stay safe and wear a mask if you have to go out. Please.
Leave a reply
Fields marked with * are required