In the past three-plus months, I have made numerous trips to the city's Compost Site. At first, it was to carry off tree branches and brush sheared off during the May 8 storm. The tree-cutting crews cut and hauled off the heavy stuff, but I opted to save money by loading up Big Red, our 1965 Ford F100 (still for sale), and making the trip cross-town. There is no charge to city residents, though commercial crews must pay.
After the storm, mountains of tree debris appeared at the site, brought in by dozens of tree removal crews and private citizens. As I unloaded a pickup bed of branches, invariably, someone would shout, "I like your truck!" Big Red does draw attention and the occasional, "How much would you sell it for?" When I quote the price, they smile, wave and drive off. I think Big Red is going to be a part of the family for some years to come.
Once I was finally finished hauling off tree debris and filling dozens of paper yard-waste bags left at the curb, it was time to reverse the process. Our contractor, Raul, and his family had demolished a large deck on the side of the house and replaced it with a much-smaller one. That left a large patch of dirt where the old, decrepit deck once shakily stood. I needed a solution that didn't require a massive outlay of cash, since paying to have a deck built has not been cheap – thougo it's a fine deck with a newly added gazebo.
The solution was mulch, created at the same Compost Site to which I had brought our tree debris. Massive chipping machines turn these mountains of wood waste into both compost and mulch, which is given away to city residents. The mulch is thick and black, far superior to what one can buy at the Big Box Store. Occasional pieces of trash must be plucked out of it, a small price to pay for free mulch. The city employs a friendly fellow on a front-end loader to grab a bucket and dump it in the bed of the truck. He had good things to say about Big Red on that first trip. Our middle daughter, Meredith, was visiting, so she rode with me out to the Compost Site for the first load. I know how to entertain visitors.
That initial load sunk the pickup bed down to just above the tires. "Drive slow," the loader operator advised. Indeed, a few miles down the road, Big Red began making alarming screeching noises, the sound of metal upon metal. We limped home. I was convinced that permanent damage had been done. The racket was turning the heads of other drivers, even if they had their windows rolled up and the AC blasting away. Big Red has no AC, just a $12 fan plugged into the cigarette lighter.
A few days later, after Mere had left, I began hauling wheelbarrow loads down the rock trail to the dirt patch. Our next-door neighbors kindly offered to let me park Big Red in their driveway to shorten my distance, but I was scared to drive Big Red until I got the mulch out of the bed. It took most of the morning to haul and rake the mulch. It was a marked improvement but only covered less than a one-third of the area. Our cats, Tater and Tot, immediately decided I had installed a huge litter box. That's OK. It beats having an actual indoor litter box.
I nervously cranked Big Red and drove up the street, worried the screeching noise was now a permanent fixture. It wasn't. Turns out the leaf springs (there are no shocks on this beast) had been stretched a tad too far. So on the next four loads – four loads! — I watched as the loader operator emptied the bucket, and signaled him to stop before the springs hit the axle (or something under the truck. Mechanics is not my strong suit.)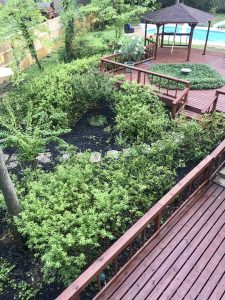 We are escaping to Taos, New Mexico this week. In fact, I wrote this in advance to post from 9,500 feet, up in the mountains, far away from mulch, humidity, perspiration and mosquitoes. One more load of mulch awaits our return to finish this project. For now, we are reveling in the cool climes, from which the next dispatch will come.
Leave a reply
Fields marked with * are required