It was late October 1944. The end of World War II was still months away — May 8, 1945, marked V-E Day in Europe, and August 14, 1945 for V-J Day in the Pacific Front. According to the NOW newsletter I recently uploaded to the Portal to Texas History, R.G. LeTourneau, Inc. — then with plants in Peoria, Illinois, Vicksburg, Mississippi, Tournapull, Georgia and Stockton, California — had 2,161 employees in the armed services. The eight-page company newsletter went out to "everyone connected with R.G. LETOURNEAU, INC." And anyone interested in subscribing could have copies mailed to them for free by writing the editor, based in Peoria.
R.G. LeTourneau, Inc., built earthmoving equipment, much of which was used by the U.S. armed forces in the war effort — equipment such as the Tournapull (a version of LeTourneau's surname graced much of the equipment he invented), which was a giant scraper, or the Tournacrane. LeTourneau equipment supplied the military with 50% to 70% of the earthmoving equipment and engineering vehicles used by Allied force.
In late 1944, R.G. LeTourneau, the company's founder and a true force of nature, was still about two years away from opening a plant in Longview and buying the Harmon Hospital campus left vacant at war's end. That site became what is now LeTourneau University, where I have worked more than five years in the library and helping sort through the company's voluminous archival collection. With the help of an able graduate student and our partnership with the Portal, we are ne

arly finished providing the metadata to more than 1,200 issues of NOW. Most of them are already visible on the Portal, so go take a look if you are interested.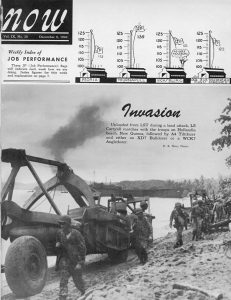 This issue caught my eye. Most issues I just fill in the missing information: issue date, editor's name, other contributors, publish the issue and move on to the next one. But a "Fighting Front Page" logo at top of one page made me pause and print the issue for closer examination. Here are some excerpts:
Marine Pfc. Ray Pauls, was a foreman in the Peoria plant who was wounded at Tinian in the Pacific Front, wrote, "The Tournapulls, 5 of them, were running between Aslito airfield and a gravel pit about two miles away, day and night, and I don't believe I ever did see one of them stop. They can certainly move earth in a hurry anywhere you want it."
From a German prison camp, Air Force Staff Sgt. Robert M. Rodgers, who worked in the Peoria machine shop, wrote his mother that he is well and "receiving fairly good treatment, and the Red Cross is supplying everything he needs." Rodgers was credited with shooting down one German plane, the report said.
Marine Pfc. Winston M. Mize, who worked a few months in Tournapull as a welder, was killed in action in the Southwest Pacific. "Surviving him are his widow and an 8-month-old son he never saw."
Ray Stears, also a former Peoria worker, wrote, "Religion helps a lot, but people don't realize it until they are in danger or afraid. If more people could realize how much it helps them, this would be a much better world. I also have to have a few pieces of steel dug out of me — from an old shell wound. One piece in my arm and another in my leg."
Infantry sergeant Wilbur Hymbaugh, a sandblaster from Peoria as well, was seriously wounded in the side and left leg while fighting in France.
The company reported LeTourneau employees were investing more than $25,000 a week in war bonds, or 8.8% of their total pay. Another article describes the plans for VE Day, though victory was more than six months away. Stores will immediately close, law enforcement will report immediately to duty, and churches and chapels will be open for folks to offer prayers of thanks.
These NOWs from nearly 80 years ago make for fascinating reading. But it is time for me to get back to work, so that soon the entire run is available to anyone with an internet connection
Leave a reply
Fields marked with * are required