We bought a new (to us) vehicle last week, a gently used 2021 Toyota 4Runner Limited still under warranty, that a friend wanted to sell. She had ended up with more vehicles than she needed. Been there, done that. It was a mutually beneficial transaction consummated without the interference of pushy car salespeople.
Buying a new ride is a slow process for My Beautiful Mystery Companion and me. We have been discussing this for at least five years, visiting dealerships, and cruising lots on Sundays when they're closed. Our last two visits with dealerships left us both with sour tastes in our mouths. The salespeople circle like vultures once you enter the lot and get out of your vehicle. High-pressure sales tactics are an immediate turnoff for both of us. Buying this ride, which I knew had been well-maintained, from a trusted friend was completely pleasant with no pressure.
The older I get, the less I care about what I drive, preferring to spend money on Three Geese Farm and trips with my BMC. My BMC drives our 2014 Toyota Rav4, which has close to 190,000 miles on it, while I drive a 2001 Toyota Tundra, with 160,000 miles and a faded exterior with peeling paint. It is pretty ugly but still drives like a new truck and has ice-cold air-conditioning. The Tundra comes in handy for hauling hay to Pancho the Donkey or buying sacks of fertilizer.
Still, we plan to take off on a long road trip sometime in coming months. Driving a vehicle inching toward that 200K mileage mark to Wyoming or wherever we go makes me a bit nervous. I have been saving money for more than a year so I could pay cash for our next ride. I detest car payments. So, we finally pulled the trigger to buy the nicest vehicle either of us has ever owned.
The 4Runner currently is sitting in the garage, shiny and spotless after my friend paid to have it detailed before we bought it. Here's the thing: we are both reluctant to drive it to w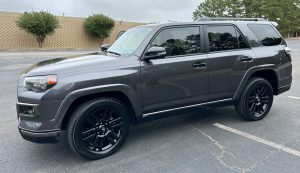 ork and risk a parking-lot ding My BMC is still driving the Rav, which I paid to have detailed this week. I ran the Tundra through the car wash and vacuumed it out for the first time in months. I could have saved my $10 washing the exterior. The Tundra is sort-of brownish/tan and looks dirty even after being cleaned. At least I got all the hay strands and dirt off the floor.
Our fancy new ride, at least for now, is being reserved for out-of-town trips, dinner dates and other special occasions. We both are still a bit intimidated owning a vehicle definitely smarter than we are. I spent several hours this weekend trying to figure out its bells and whistles, with limited success. My friend has offered to give me a lesson, and I might have to take her up on it.
My BMC and I are both reminded of our trip in the summer of 2021. I rented a fancy BMW sedan in Boston to drive to Quebec's Eastern Township. That Beemer seemed to have a mind of its own — one far more advanced than mine. I couldn't figure out how to put it in park for the longest time. It kept talking to me, appearing rather irritated with my incompetence. So far, the 4Runner has been unfailingly polite.
Not to be morbid, but this type of purchase at my age makes me wonder if I have just bought my last vehicle. I tend to hold on to vehicles at least a dozen years. Will I be car shopping at 80? I certainly hope so. Meanwhile, I'll keep driving the Tundra, with its assortment of dings and minor dents. I added a new one a few weeks ago when I bumped into the loading dock at the feed store a bit too vigorously while picking up more hay for Pancho. There's no way I'll risk that with that fancy 4Runner.
I sure am itching to take a road trip in it with my BMC, though.
Leave a reply
Fields marked with * are required