Two of our favorite musicians headlined benefit events in the past few weeks, to which my Beautiful Mystery Companion kindly bought tickets as part of our 10-year wedding anniversary celebration, which we stretched into a month of fun. First, we saw Mary Gauthier and Jaimee Harris perform at Café Momentum in downtown Dallas. Gauthier (pronounced Go-Shay) has long been one of my favorite singer-songwriters with soulful lyrics and a distinctive voice. Harris is a fresh face, originally from Waco, who opened and then played lead guitar and sang backup while Gauthier performed her set.
Before the show began, Gauthier wandered around the restaurant, stopping to say hello and thank us for coming. She just published her first book, Saved by a Song: The Art and Healing Power of Songwriting. I bought a signed copy after the show. It's next on my list to read.
Café Momentum, just around the corner from the Adolphus Hotel, where we stayed, is a unique restaurant. Since January 2015, it has provided a 12-month post-release internship program for young women and men coming out of the juvenile justice system. They rotate turns as servers, dishwashers, cooks and hosts with a focus on learning new work skills, social graces and developing as useful members of society. More than 750 young men and women have gone through the program, many of whom have gone on to college. What's more, the food is simply fantastic. Café Momentum offers what it calls a seasonal New American menu with produce and meat coming from more than 20 area farms and ranches. It regularly makes the list of top restaurants in Dallas.
Our meal was divine, as was the music that followed. The service was impeccable, and it was uplifting to see these young men and women, mostly of color, working hard to serve the patrons of Café Momentum. They were a joy to be around.
|———|
A few weeks later, we drove 45 miles north to tiny Pittsburg, where acclaimed singer-songwriter Radney Foster and his band were playing a benefit for Cypress Basin Hospice, a non-profit that provides end-of-life care in 16 Northeast Texas counties. The concert was held at Anvil Brewing, located off downtown in the historic Pittsburg Feed & Seed building and was unusual in that it started at the scheduled time. That was good news for old folks usually asleep by 10:30 p.m.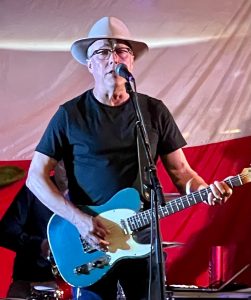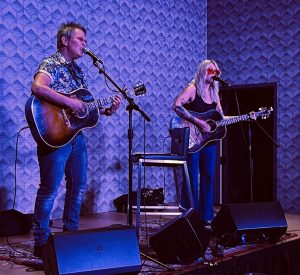 I have been an avid Radney fan for about 15 years. His songs have been recorded by Keith Urban, Los Lonely Boys, Marc Broussard, Kenny Loggins and others. He has a compelling voice, can hold a note for an amazing length of time, and is yet another in this state's long line of great storytellers. Radney recently released his 11th album along with an accompanying book titled For You to See The Stars, a collection of short stories with a wide range of subjects. Each story has an accompanying song on the CD. His publisher wrote, "His stories have rhythm and cadence and sing from the page. You could say that comes from being a songwriter, but I don't think so. I think that comes from being born to put words on paper."
Accompanied by a lead guitar player whose full white beard would allow him to play the Grateful Dead's late Jerry Garcia in a film biopic; a bass player; and a drummer, Radney put on a fast-paced two-hour show for a small but appreciative audience. Dinner was delicious as well. The little town of Pittsburg is blessed to have its own brewpub and unique restaurant.
These two concerts were thoroughly enjoyable, as was finally being back enjoying live music. And both were for worthy causes. As the great Taj Mahal sang more than 45 years ago, "Music keeps me together."
Leave a reply
Fields marked with * are required