I showed up on a rainy Saturday afternoon to take Mr. G's photograph. "Come about 2," he said on the phone the day before. "It usually slows down by then." When I opened the door to Gonzalo's Mexican Restaurant, about a half-dozen folks turned to see who was entering. They were waiting for a table, while Mr. G. – Gonzolo Hernandez – stood behind the cash register, the three walls behind him covered in snapshots.
So much for not being busy.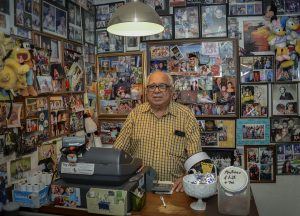 That's how it has been at Gonzolo's – which most folks call Mr. G's – since the 78-year-old owner announced he was closing the restaurant he has operated for half his life on Sept. 30. After 39 years, business has slowed to where he is losing money, no doubt a result of the proliferation of chain restaurants in Longview over the past couple years. He had no plans to retire, even as his 79th birthday approached.
I took his photo as the waiting diners watched. The wall behind him contains the photos of the famous – Longview graduate Matthew McConaughey, among others – and the children of many of his loyal adult customers. Mr. G and his crew of a half-dozen, including his wife, have been serving up what I consider the best Tex-Mex in town to three or four generations of East Texans. My Beautiful Mystery Companion's family has been coming here for nearly as long as he has been open. Snapshots of two of the toddlers of that clan adorn those walls. With 10 years literally under my belt of ordering either the huevos rancheros or tacos al carbon, I am a relative newcomer. As I took his photo, a woman watching said, "I've been coming here for 38 years, and I order the same thing every time." I can relate.
Mr. G's is modestly furnished, with mismatched chairs and threadbare carpet. It's clean and homey, but it doesn't match, décor-wise, the interiors of the fancy chains that have arrived here lately. But no chain can equal the welcome one gets at this restaurant from the short, rotund proprietor, with his constant smile. Or the food, especially the salsa.
I joked to Mr. G that maybe he should announce more often – as he did on Facebook – that he was closing to get folks to return. Over the past several months, he has posted warnings that if business did not improve, he would close. "Oh, no," he said. "I mean it this time."
In my time patronizing Mr. G's, I have watched as he greeted everyone, almost always by name. Women are hugged, men get a handshake, and babies are fawned over. The restaurant seats about 50, so when full it has the feel of a family get-together. The waitresses have been working there for years as well, and they know the patrons' drink orders without asking — unsweet iced tea for me, water with lemon for my BMC and our daughter Abbie. Like most everyone else, apparently, we three almost always order the same thing. When we switch it up, often the waitress must scratch out what she has already written down.
I went back the next day, Sunday morning, a few minutes after Mr. G's opened to give him a framed print, planning to eat lunch. At 11:15, the line was to the door. I left but intend to return at least once in the next few weeks.
A customer asked what he was going to do with all those photos on the walls – the babies, movie stars, football players and kids posed beneath Christmas trees. "I'm going to take them all down, put them in a scrapbook and whenever I get lonely take it out and look at them," he said.
I think when I return before month's end, I'll order a quart of that salsa. Vaya con Dios, Mr. G.
Leave a reply
Fields marked with * are required