The other day I went to the University of North Texas library's website, looking for an article for a patron. As I called up the site, the official name of the central library popped up — A.M. Willis, Jr. Library. We knew him as Monk in these parts, a nickname he bestowed on himself because nobody could properly pronounce his given name: Achille Murat.
Monk Willis and I became friends in 2008 when he was 92, and I had just returned to Longview to be publisher of the News-Journal. Monk owned an insurance company for many years and worked under Lyndon Johnson both as a political operative and later for the Veterans Administration. I visited him regularly in his home on Noel Drive in Mobberly Place, a stately neighborhood that was once home to many of Longview's wealthiest families — money usually earned in the oil field. Monk was not wealthy except in terms of friends, family and his intellect, which was impressive.
He served on the board of regents of what is now the University of North Texas for 18 years and more than a decade as its chairman. One day, I picked up a small, framed photo from an end table in his living room. It was a nondescript image of a building. The sign in front caught my attention: A.M. Willis, Jr. Library.
I turned to Monk, no doubt with a stunned look on my face. "They named the library after you?"
Monk shrugged. In 1978, nine years after its construction, what was then known as The Library got its new name, honoring the man who had served the university for so long, never receiving a dime for his work. One irony is that he had absolutely no connection to UNT, having graduated from William and Mary in Virginia, later getting a master's from Harvard Business School.
Monk died at 94 in January 2011. I still have a card he sent me two years earlier when my dad died. In it, he used a quotation I learned he often used to comfort the grieving. In his perfect penmanship, he wrote: "All that we can know about those we have loved and lost is that they would wish us to remember them with a more intensified realization of their reality. What is essential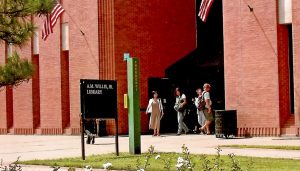 does not die but clarifies. The highest tribute to the dead is not grief but gratitude."
I am grateful for our friendship. I still miss him.
|———|
I really cannot think of a higher honor than to have one's name adorn a library. I thought about that a few weeks ago when having lunch in Nacogdoches with Judy McDonald, a longtime friend. Judy is well-known in that piece of the Pine Curtain for her decades of community work — serving on the school board, as mayor, head of the economic development corporation and too many other activities to list. At 83, she is still going strong, talking a mile a minute and still making fun of the awkward sideways hug I give her when we meet.
When the city bought a closed grocery store a few decades back to renovate into a new public library and a recreation center, it eventually (in 2012) named the library after my friend — the Judy B. McDonald Public Library. They couldn't have picked a more fitting person to honor, in my view. I am lucky to be her friend, and Nacogdoches is a better place because of her and her late husband, Dr. Archie McDonald, longtime history professor and author, who left us in 2012.
|———|
I have tenuous connections to the namesakes of three other libraries. In high school, I worked — and was twice fired, the third time coming decades later — for the Longview News-Journal as a paperboy, then a part-time photographer. The publisher was Margaret Estes, for whom the library in which I work half-time is named, because of her considerable generosity to LeTourneau University. One of the reasons I was deservedly fired was for wearing a Sissy Farenthold T-shirt to a press conference being held by Dolph Briscoe. Both were running for governor. Briscoe won, and I went to work for Shakey's Pizza after my unceremonious departure from the paper.
Decades later, one of my favorite research repositories is named after him — the Dolph Briscoe Center for American History, next door to the LBJ Library on the UT-Austin campus. I hope to return there soon for another deep dive into their archives.
Finally, the Ralph Steen library on the campus of Stephen F. Austin State University is named after the historian who served as president there for most of my time there. I recall seeing him walking around campus, a short, round fellow with a constant smile.
My love for libraries is lifelong. I am blessed to be able to work in one these days and to be able to spend time doing research in others, such as those above.
Leave a reply
Fields marked with * are required