DESTIN, FLORIDA — It is exactly 600 miles from Three Geese Farm to the condo in which we stayed in this Florida Panhandle resort, thanks to a generous family with whom we are friends. We were ready for a break now that the semester is over. My Beautiful Mystery Companion stayed three days longer than I did, which meant taking separate vehicles. Originally, I had booked a rental car but decided at the last minute to take our 2001 Toyota Tundra. It now sports a set of new tires and had been proclaimed a perfectly fine truck by our new — and beloved — mechanic. With its faded paint job and ripped upholstery, it is the type of vehicle I rarely lock, usually just pitching the keys down on the floorboard. It would be low on any car thief's list, but that farm trucks runs like a new vehicle and performed flawlessly on this voyage.
The stay was worth every hard-earned mile, Louisiana pothole, Mississippi backroad and Alabama pulpwood truck behind which I drove. The maps app on my phone seemed determined to provide me with a firsthand view of the Deep South countryside, which essentially looks like East Texas, though Mississippi boasts much larger magnolia trees, living up to its nickname.
Destin sits on a sliver of land with a bay on one side and the Gulf of Mexico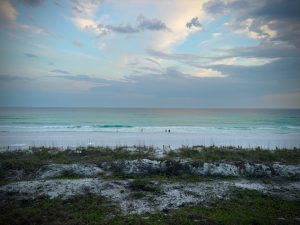 on the other. The condo in which we stayed is on the beach — brilliant white sand manicured early morning by a guy in an air-conditioned tractor pulling an implement called a beach rake. Being a tractor guy, I considered offering to spell him for a bit but decided better of it. I opted instead to walk barefoot along the beach, waves washing over my feet. The water was cool but tolerable, the whitecaps peaking well before the water reached me.
I am not known among my family and friends as a "beach person." I invariably opt for heading to the mountains to hike, or to Boston to walk around and visit historic sites and museums. But this trip possibly changed my thinking on the topic. It was lovely to sit under an umbrella, sprayed head-to-toe with SPF-70 sunscreen, reading a book and listening to the surf as storm clouds skittered across the horizon late each afternoon.
The duties of the farm, work, school, etc., were a million miles away as I alternated between reading Making History: The Storytellers Who Shaped the Past by Richard Cohen, essentially a history of historians, and Clark and Division, a compelling mystery novel by Naomi Hirahira. I figured out how to dig a cupholder in the sand to keep my water-filled Yeti upright in the wind and sat for hours, reading and occasionally napping. The crashing of the waves provided an excellent backdrop for my snoozing for a half hour or so, then back to reading.
We paid a side visit to Seaside, a picturesque, planned community built in the mid-1980s. It is home to one of my favorite locally owned bookstores — Sundog Books, in business for more than 30 years in a house on the square. I snared a signed copy of Charles Frazier's latest novel, picked another novel completely at random, and also bought Sundog T-shirt. Like I need two more books or any more T-shirts, but there you go.
Since we were in Destin in mid-May, we beat the peak season by a few weeks, which meant the beach was not crowded, traffic was tolerable, and the wait at restaurants was reasonable. On my last night there, we feasted on pan-seared grouper covered in a shrimp and crab sauce. My BMC and I kept groaning with delight with every bite.
On my last night in Destin, a thunderstorm rolled in not long before sunset, the sky filling with heavy dark clouds, the water turning an even deeper shade of turquoise. The trip home the next morning in the Tundra was tedious but uneventful. I kept pushing back thoughts of the chores awaiting me when I got home, content to feast on the memories made on that white-sand
Leave a reply
Fields marked with * are required