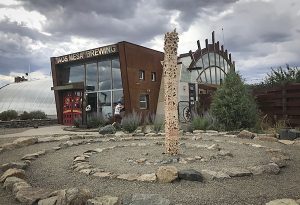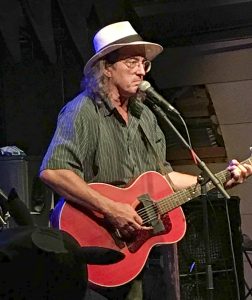 EL PRADO, NEW MEXICO — We arrived about 6 p.m. at Taos Mesa Brewing, a funky brewpub called the "Mothership," since there are two smaller locations. The Mothership is built of rusted steel, glass and translucent plastic, with a large amphitheatre in back. Next door is an RV park filled with old Airstreams and other trailers for rent.
El Prado, a rural suburb of Taos, is 10 miles southeast of the Rio Grande Gorge Bridge, the second-highest bridge on the U.S. Highway System. The view from the bridge is beautiful, a bit scary to walk across, with the canyon bottom 650 feet below. Warning signs and emergency phones are scattered about because several dozen poor souls have committed suicide in the past few decades by plunging over the rail. I take photos of three bighorn sheep grazing along the canyon wall and try to ignore the queasy feeling in my stomach while looking down.
Singer-songwriter James McMurtry and his band members are setting up to play about 90 minutes early. McMurtry is the son of renowned novelist Larry McMurtry and possesses his dad's gift for story telling. Only he does it with richly textured songs that feel like four-minute audio films. Novelist Stephen King once wrote, "The simple fact is that James McMurtry may be the truest, fiercest songwriter of his generation."
Honey, don't you be yelling at me when I'm cleaning my gun.
I'll clean the blood off the tailgate when deer season's done.
We've got one more weekend to go.
And I'd like to kill one more doe.
There are at best a dozen folks inside, while another 20 or so sit outside, watching the clouds darken and the wind gust, lightning visible in the distance. This is monsoon season in Northern New Mexico, with thunderstorms arriving most afternoons about 5, driving temperatures down even lower. My Beautiful Mystery Companion and I drove to the Taos area from East Texas for precisely that reason, to escape the heat for a week. We have not been disappointed.
I go to the bar to order a beer. Since my daughter and son-in-law opened City Acre Brewing in Houston two years ago, I make it a point to sample other microbrews, take a photo of the beer menu and pass along my experiences. It's a burden, but I am determined to fulfill my familial duty.
I look to my right. James McMurtry is standing next to me, waiting to get a beer while thumbing through his phone. At 56, the resemblance to his father, who is 82, is more pronounced than when both were younger. James is tall with shoulder-length hair, thick glasses and a seemingly unchanging somber expression. I race through possible introductory lines but can't think of anything beyond the typical fan-guy stuff, like, "Man, you are the finest songwriter in this land." Which, in my view he is, though Jason Isbell occupies the same rarified territory.
So I say nothing to him, just nod and order my beer. It was a hoppy IPA called Jonesy's Cross Eye Rye, which I recommend if you end up in El Prado.
The brewpub slowly fills up as the 7:30 start time approaches, an eclectic mix of old hippies with gray ponytails, women in long flowing peasant skirts, a scattering of younger folks as well. The side door near where we're seated is open, ushering in a lovely cool breeze. We are seated next to Gunther and Marurava, who live in Candy Kitchen, about 250 miles south of El Prado. It is described in Wikipedia as, "home to many homesteader families, regular folks, hippies, Radical Faeries, Ramah Navajos, Zuni Puebloans, nihilistic survivalists, reclusivists, people who like their privacy, people who enjoy living simply, and many other outcasts who live on the fringes of society."
Sounds about right, judging from our conversation with Gunther and Marauva.
|———|
McMurtry and his band take the stage at the appointed hour. As he launches into his first song, a few dozen folks begin dancing in front of the stage. It has never occurred to me to dance to a McMurtry song, but that's just me. He runs through an impressive lineup of songs — "Choctaw Bingo," "You Got to Me," and "Levelland," — to name a few. The latter was made popular by Robert Earl Keen, and McMurtry seems to resent it a bit, invariably pointing out that he wrote the song, not Keen.
While he is known for his lyrics, McMurtry also has a fine voice and knows his way around the neck of a guitar, backed by the Heartless Bastards. These guys have been together a while. Between songs, McMurtry delivers one-liners while peering myopically out at the crowd, only a hint of a smile creasing his face.
After a perfunctory encore, the show is over. We walk out into the New Mexico night, the storm over, the temperature in the 50s. It has been a fine night in El Prado.
Leave a reply
Fields marked with * are required