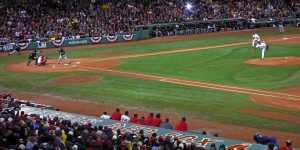 Current events are proving to be a bit overwhelming these days, at least for me. We are beset with tragedy, corruption and disasters. Even for a news junkie like me, someone who has spent his life following — and reporting, on a modest scale — what is happening in the world, there are days I simply can't listen any more to NPR news, or read The New York Times or Washington Post online. That is rare, since it is so ingrained in me, but it happens. Thank goodness for Spotify and iTunes.
At least it is October and there is baseball. My beloved Boston Red Sox beat Houston with four straight wins and clinched the pennant Thursday night. They're going to the World Series for the fourth time in 14 years. For the Astros, it would have been their second consecutive appearance, after winning in seven games last year, in a series that lifted a city and coastal area ravaged by Hurricane Harvey. That was the Astros' first World Series championship, and it could not have come at a better time. It lifted the spirits of area residents as they were still cleaning up from the massive flooding.
The Red Sox last appeared — and won —the World Series in 2013. This year, they won the most games — 108 — in the regular season. The Astros had the second-most wins at 103. Watching this series was a welcome respite from the real world.
I was not rooting against the Astros. I was rooting for the Red Sox, the team I have avidly followed all my life, while growing up 67.6 miles north of Fenway Park in Allenstown, N.H. I really had no choice about becoming a Red Sox fan. I was surrounded by a family of Sox fans that spanned three generations. Carl Yastrzemski, the Boston Hall of Fame left fielder, was my childhood hero. (I can even spell his surname without looking it up.) I have an autographed baseball from Yaz on my Red Sox shrine in the study, along with a poster of him leaping to catch a ball as a young man.
I have lost count of the number of times I have visited Fenway — never enough, in my view. My highlights at Fenway are sitting on the first base side for Game One of the 2007 World Series against the Colorado Rockies, and, last summer, sitting just five rows behind home plate. That was a generous birthday present from my Beautiful Mystery Companion. As a kid, I watched from the right-field bleachers as the team tied for first place in 1967 on the next-to-last game of the season. That's the year Yaz won the Triple Crown.
Someone on Facebook recently referred to Fenway as "decrepit." That's akin to calling the Grand Canyon just a big hole in the ground. Fenway is impeccably preserved, a gem of a park that has been home to the Sox since 1912. It is one of baseball's shrines, along with Wrigley Field in Chicago. I enjoy visiting Minute Maid Park in Houston, especially in the summer when the roof is closed and the air-conditioning is humming. But watching a game in Fenway is magical, sitting in a park that baseball fans have attended for more than a century. If that's "decrepit," I'll take it every time.
I don't start watching baseball on television until the playoffs begin, and only if the Red Sox, Astros or Rangers are participating. One of my favorite features of Facebook — and there aren't many in this era of fake bots and political screeds from all sides — are the highlights from the previous day's Red Sox game. I can keep up during the regular season with a two-minute video and go on about my day.
Baseball is the only sport I intimately understand, my knowledge going far beyond what I know — or care — about football or basketball. Hockey? Fuggeddaboutit. Unfortunately, I can no longer keep up with which player is with what team, since all teams trade players as often as Elizabeth Taylor or Larry King used to get married. Before the season begins, I scan the Red Sox roster and familiarize myself with the players. However, I am intimately familiar with the game itself, its strategies, rhythms and nuances. Perhaps that is the reason I enjoy watching this American pastime some find too slow, even boring.
Baseball boring? No way. Sure, MLB players are all millionaires, some making stratospheric salaries. They play a game at its highest level that is still played in fields across America in much the same manner — the game I played from the age of 5 or so until my late 30s, without particular distinction.
I still love baseball, especially when it's autumn, and the Red Sox are headed to the World Series.
Leave a reply
Fields marked with * are required