I bought my first Joni Mitchell album in 1971 from the Howard's Discount Store on Mobberly Avenue in South Longview, across the street from what was then called LeTourneau College (now LeTourneau University). We lived on South Twelfth Street, right behind the college, so I cut through the campus, past the barracks and Speer Chapel on what was about a half-mile walk. Most of the money I earned working at the Longview newspaper — by then as a part-time photographer after starting as a paperboy — was spent on books, albums, and gas for the 1954 Dodge with its PowerGlide automatic transmission that eventually proved to be the cause of its demise. I was its third-generation owner, after my grandfather and then my father.
I walked back home, purchase in hand, eager to rip the cellophane off the cover and play it on the record player in the bedroom I shared with brother Scott. I had heard Joni Mitchell songs from earlier albums while hanging out with friends at T.H.I.S. Line, a hotline service manned by teens for teens. I volunteered there when not working. Music was constantly playing in the small backroom we had been given by a local church in the old parsonage.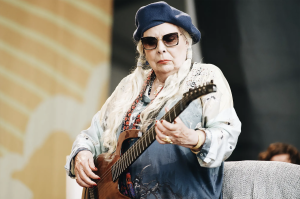 Joni's amazing vocal range, her deft lyrics, unique chord progressions and sheer musicianship quickly captured me. I have been a fan since a teenager. More than 50 years later, "Blue" remains almost certainly my favorite album. It is at least in the top five — along with Jackson Browne's "Late for the Sky"; Bob Dylan's "Blood on the Tracks"; "The Trinity Sessions" by Cowboy Junkies; and "Graceland" by Paul Simon. But if I had to pick just one album, it would be "Blue." I never tire of listening to it, which isn't necessarily true of most of the music I listened to a half-century ago. I tend to seek out new music on Spotify, expanding my horizons as it were.
I only saw Joni once in concert, in 1981 while in graduate school at UT-Austin, inside the Frank Erwin Center on campus, where I spent a few months photographing concerts for the Erwin Center, often from the catwalk above the stage. But I bought tickets for Joni's concert, within a decent distance of the stage. It was wonderful to hear her songs live, to witness her voice and musicianship in person. What struck me in particular was she smoked cigarettes nearly nonstop that evening, which seemed detrimental for someone who relied on her voice. But she was beautiful and put on a wonderful concert.
Joni, 78, stopped performing live sets nearly two decades ago. She suffered a brain aneurysm in 2015 and has spent years recovering from that. Though she made limited public appearances in recent years, Joni Mitchell fans were shocked and delighted Sunday when she showed up at the Newport Folk Festival and delivered a full set at the venue she last performed at 53 years ago.
It is difficult to watch the videos without tears flowing, as Joni sang "Both Sides Now," played guitar on "Just Like This Train," and sang "A Case of You" with Brandi Carlile, who was instrumental in supporting Joni's return to the stage. (Last November, Carlile performed the entire "Blue" album in Carnegie Hall.) It was simply lovely to see Joni wearing a beret and sunglasses, deftly playing her guitar, smiling widely as the crowd cheered wildly.
Bad news and anger seem to dominate our world today, on so many fronts. For just a little while this week, watching Joni perform "Big Yellow Taxi" and several other of her time-honored songs, as Carlile said in a tweet, "she stopped this old world for a while."
Thank you, Joni.
Leave a reply
Fields marked with * are required