I walk three miles first thing each morning, weather permitting. Since it has rarely rained the past three months, I am out the door a little after 7 each morning, trying in vain to beat the inexorable heat that only recently eased up. Lately I have been wearing a hoodie and long-legged (for me) workout pants. The weather feels even more glorious than autumn normally feels, since we had such a gruesomely hot and dry summer — as did much of the country.
My walking route does not vary. I head down the driveway and about 100 yards to the county road in front of Three Geese Farm. Directly across from our place is a single-road subdivision with three houses completed, and two more slowly being constructed. Really slow, as in going on a year since the slabs were poured. The houses are apparently complete on the exteriors, but the builders have much to do to finish inside. I wave at the workers as I pass by.
It is a mile to the end of Mustang Drive, so I turn and walk halfway back, then to the end of the road again. My Beautiful Mystery Companion calculated this three-mile route that I adopted. I carry my phone and listen to Red River Radio while walking for almost an hour. At that halfway point, a German shepherd puppy, who appears to be about nine months old, comes bounding down the driveway most mornings from the second house on the road, tail wagging madly. I stop to pet him and try to keep him from leaping on my chest. I am acquaintances with his owner, so I call him Rebecca's dog. Sometimes he follows me for 100 feet or so but invariably returns to his home. He is a good boy.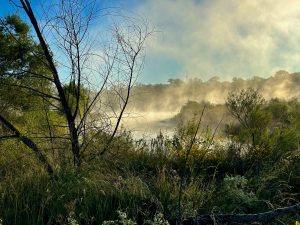 When I first started walking this route, the terrain struck me as East Texas ugly. Most of the trees on the east side have been taken down. What remains is red clay striven with erosion fissures heading down to a large lake. With the trees gone, all manner of weeds cropped up. An old satellite dish and a bent metal gate lie in a ditch on the side of the road. Wild-animal scat dots the road. Turkey vultures circle above most mornings. I hope they aren't eyeing their next meal.
I walk while listening to Morning Edition and pondering the tasks ahead of me that day — writing this column, recording pieces for RRR, working on my Capital Highlights column for the Texas Press Association, preparing for my photography class, or reading journal articles for the graduate course I am taking from UNT — calculating what I could get done before heading to town for my six-hour shift at LeTourneau University's Estes Library. Often, I would get to the end of the road without realizing it, so deep in thought I would be. The scenery seemed so barren that it was hardly worth noticing, I thought.
But I was mistaken. When I started looking more closely at the world around me, examples of beauty were all around me. The bunches of coreopsis growing alongside the road. The mist rising off the small lake now that the air is cooler than the water. The way one bent-over tree perfectly frames another tree behind it if you get in the right position. A full moon still visible in the daylight. Brilliant sunrises on several occasions, with the clouds turning various hues.
I began stopping to take photos fairly often, editing them on the phone as I walked, then posting them on Facebook. Folks often marvel at the beauty of the place where I get to walk. The irony is that I doubt anyone driving down Mustang Drive would be oohing and ahhing at its beauty.
For a recent photography class, I gathered up 18 photos taken during these walks to show to my students. "You can find beauty just about everywhere," I told them, showing them first a wide shot of the area, with its acres of red-clay dirt and brush, before showing them the photos I had taken.
I have long believed that. It took walking down Mustang Drive every morning to remind me.
Leave a reply
Fields marked with * are required