I deep fried a turkey for our Christmas dinner, held on Dec. 27, and lived to tell the tale.
Luckily, I didn't watch the many videos of turkey fryer explosions before doing so. A Portland, Oregon television station compiled a stellar array of "Hold my beer" clips showing primarily men (of course) risking death-by-boiling-oil while deep frying a turkey. There were videos of clueless alpha males in shorts and flip flops deep frying a turkey inside a garage next to a wall; trying to extinguish a cooking-oil fire with a water hose; or cramming a 15-pound turkey into a too-small pot. In one video, two firefighters in full protective gear dangle a turkey from a 20-foot pole over a boiling cauldron of oil. As a crowd watches from a safe distance, they lower it into the pot, which immediately explodes, fla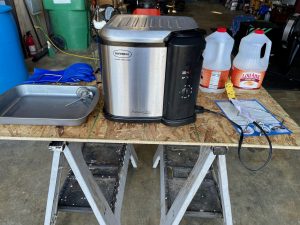 mes shooting at least 15 feet in the air. The crowd cheers, then groans as another firefighter rushes in with an extinguisher and puts out the blaze. What a killjoy.
None of these episodes turned out well, though no actual injuries were shown — except to walls and landscaping. These holiday meals likely concluded with a trip to Burger King, and Big Bird relegated to the garbage can. So when my Beautiful Mystery Companion mentioned how it would be nice to have a fried turkey for Christmas — something we have eaten just once before, prepared by someone else — I put out a call on the All Things Longview Facebook page, looking for a restaurant or caterer that deep fried turkeys.
An acquaintance privately messaged me that he would be happy to fry a turkey for me, which was very kind. In the ensuing exchange, I found out he uses an electric deep fryer, which he would loan me. I took him up on the offer and got it a few days before Christmas. He gave me a quick lesson and also provided the instruction leaflet, which I studied thoroughly.
Why fry a perfectly healthy hunk of meat? Actually, as long as one doesn't eat the skin, researchers at The University of Texas say there is little difference in calories and fat between a roasted turkey and a bird that has been dropped into a hot pot of peanut or canola oil. Most of the oil is absorbed by the skin, leaving moist meat if prepared properly. It's not like frying catfish, along with the accessories, such as fries, hush puppies and such. That's what we ate for Christmas dinner with my BMC's family — a rare treat and an East Texas tradition — especially when it's 80 degrees on Dec. 25, as it was this year.
I injected the 13-pound turkey the day before with Tony Chachere's Famous Creole Cuisine butter marinade. That bird plumped up nicely. I placed the fryer on a piece of plywood set on a couple sawhorses in the shop, out of the wind but safely away from anything combustible. This fryer is largely idiot-proof if one follows directions. It has a maximum fill line indicator, a thermostat that indicates when the oil has reached the optimal cooking temperature of 375 degrees, a basket for the turkey, a hinged cover and a long hook for lowering the bird into the oil — the most dangerous moment. My friend even provided a long pair of thick rubber gloves.
I heated the oil and made sure the bird was moisture-free, patting it down with paper towels. Donning safety goggles, the gloves and feeling a bit like a character in Breaking Bad, I carefully dropped the turkey into the oil, which bubbled but didn't erupt in flames as in the videos I watched on YouTube. I closed the cover and, exactly 52 minutes later, turned off the fryer and carefully lifted the turkey out of the oil, allowing it to rest for 15 minutes above the oil.
The turkey was a thing of beauty. It looked as if it had been tanning on the beach at South Padre Island for an entire summer. The meat was moist, and I avoided eating the skin. The worst part of the entire process is cleaning the electric fryer, which takes considerably more work than cleaning a pot that's been bubbling on a propane-fueled fryer.
I have ordered my own electric deep fryer. One can also fill it with water and use it to boil shrimp, corn on the cob and red potatoes, which sounds like an excellent Valentine's Day meal. My mouth is already watering.
Leave a reply
Fields marked with * are required