Several months ago, an arborist from the Texas A&M Forest Service came to look at one of the large water oaks in the front pasture, which had a deep crevice at its base and clearly contained decayed wood. He took a quick glance and said the tree was a goner. He said the good news is that if it fell, the water oak would fall away from the house. Patching the crevice with foam or concrete, as was common in decades past, would do no good at all. I decided to just leave it and let nature take its course.
Then in late March a fierce thunderstorm blew through, spawning a tornado that destroyed several houses and buildings in Upshur County — less than 10 miles away from our farm as the crow flies. We were spared that type of damage, but the winds blew the top out of the dying water oak and lodged it — at least for now — in a fork of the tree, while sending several large limbs to the ground. The large limb, about a dozen feet in length, perched horizontally in the tree. It is known as a widow maker. I gave the tree a wide berth, not mowing under its canopy. I called my tree guy, who came out to give an estimate and warn me it might be a few weeks, given the widespread storm damage. Certainly, getting felled trees off roofs was a higher priority.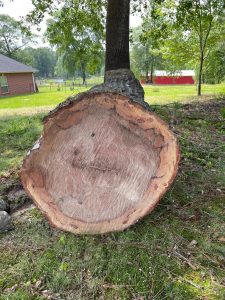 When he texted that his crew would arrive the next morning earlier this week, I ginned up the courage to move the half-dozen pieces of lawn furniture that were beneath the doomed water oak. Glancing upward as I pulled each piece away from the danger zone, I said a quick prayer of thanks when the last one was out of harm's way – as was I. The crew arrived in short order, with a bunch of equipment – bucket truck, tractor, a couple of other truck pulling trailers to haul off debris, rope and chain saws.
First off, a fellow climbed high up the tree and attached a rope, which was hooked to a tractor about 100 feet away. Several times when we lived in a neighborhood, a tree would have to be taken down by a fellow who climbed to the top and slowly cut off limbs and pieces of the trunk, which were then lowered to the ground by rope so as not to damage our deck, the azaleas or other trees. This old water oak could be dropped safely onto the pasture and then cut up. I whipped out my phone and took photos, then prepared to video the tree crashing to the ground.
It was a sad moment, frankly. I love these stately oaks, for their beauty and the shade they provide. But the tree was clearly too rotten to save. Taking it down only took about 15 minutes, then woomph! It came crashing down.
Cutting up the water oak into manageable pieces to haul off took about three hours. The fellow with the stump grinder arrived and turned the stump into wood chips that also were hauled off. Where that water oak once stood is now a bare piece of dirt. I'll likely run by the feed store and get some bermudagrass seed to throw down there.
I managed to save four large pieces of the water oak that were about 30 inches in diameter and 7 feet long. A friend of mine volunteered to take them to the sawmill he uses and have them sawed into boards. I'll dry them outside but under a tarp for about a year. I have no idea what I'll build with those boards — something that will always remind me of that stately water oak. Its two companions nearby will soon have a baby sibling. We spied a water oak sapling growing out of the mulch I hauled in from a nearby chipping yard. It is already nearly 2 feet tall.
I'm going to plant it there and watch it grow over time. As I wrote a few months back, we're planting trees we will never climb. But someone will, likely long after we're gone. That's a comfort.
Leave a reply
Fields marked with * are required