On the same evening, a few days ago, I experienced both excellent customer service and its polar opposite – lousy service based on silly rules. I'm not naming names here, since my aim is to neither denigrate an establishment nor provide a free plug. This is more an exercise in comparing and contrasting two events that occurred with a few hours of each other.
When traveling to a large city, all of us have a dizzying array of choices as to where we dine or book a hotel – constrained perhaps by cost or convenience. But even within budgetary constraints, the options are practically endless. What keeps me coming back to certain establishments are quality products and great service.
I was out of town on a quick trip and went to dinner with a couple of friends. The restaurant, which is fairly high-end and enjoys a loyal clientele, was busy, but we were seated right away. Since it was happy hour, all appetizers were half price. I ordered a Topo Chico, as we each pored over menus, ultimately deciding to each order two appetizers and then share them all, family style. Within a few minutes, the appetizers began to arrive, one by one, delivered by a clearly harried young man. Our server appeared to have more than her share of tables to tend.
After a while, we realized one of the ordered appetizers hadn't arrived – a quartet of brisket quesadillas. I asked the waitress about it as she came by, and she promised to check. Time passed. The restaurant's appetizers are more like entrees for people with normal appetites, so there was more than plenty of food for the three of us. Since I had already offered to buy the meal, I decided to just
blow off the quesadillas, figuring they had been forgotten. No big deal, since we were all well-sated with excellent food.
As I began looking for the server to signal for the check, the young man showed up with the plate of quesadillas. "I'm sorry," I said. "It's been too long. We're going to pass on those." He looked stricken but quickly retreated. I made a mental note to make sure I wasn't charged for them when the bill came.
A few moments later, a manager approaches with the same plate of quesadillas in hand. I thought he was going to argue that I had ordered them and was bound to accept and pay. I girded for argument but couldn't have been more wrong.
"I am so sorry these took so long," he said. "These are on the house." One of my companions asked if we could get a to-go container, and the manager quickly boxed them up. The server came by to apologize, though it clearly wasn't her fault. I paid and left her a generous tip, after thanking the manager for making amends so graciously.
|———|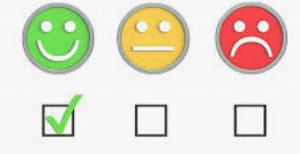 I bid farewell and headed to the hotel, where I have stayed many times. After unpacking, showering and putting on my post-dinner, waist-tolerant clothes, I settled in to read. I quickly realized the room only had a single lamp on one of the end tables. Even though there was a desk and a reading chair, that was the only light in the room, save the overhead bathroom light. A simple oversight, I thought, and called the front desk and asked that a floor lamp be brought up.
After 20 minutes, I called again. Then again, 10 minutes after that. On the third try, the desk clerk said "Engineering" said they couldn't bring me a lamp, that I would have to change rooms. I pointed out bringing a lamp was far simpler than me packing all my stuff up and moving at nearly 10 p.m. She said that was hotel policy.
So, let's unpack that. It is "hotel policy" that if a room is missing a lamp or two, that the customer must change rooms rather than somebody showing up with a lamp. I gave up the battle with the clerk and put the end-table lamp on top of the wall heater by the chair to read. And I fumed. The contrast in customer service between the restaurant and the hotel couldn't be greater. I will happily return to the eatery but am actively looking for a new hotel that fits my budget and geographic needs, next time I'm in town.
When it comes to customer service, most of us vote with our feet. That's what I plan to do, propping mine up somewhere else with decent lighting and a staff with enough sense to look beyond "policy."
Leave a reply
Fields marked with * are required