It looks like the Boston Red Sox are not going to make the playoffs this year. Last year's World Series champions, for the fourth time in 15 years, suffered this season from erratic pitching and a disastrous eight-game losing streak in August. It isn't mathematically impossible for them to grab a wild card slot, but nearly so. The team this week fired its club president, a certain sign it is time to regroup and rebuild.
I don't mourn the team's fall from the elite, not wanting to be greedy. I'll definitely be rooting for the Houston Astros when they likely play the Yankees for the American League Championship and a slot in the World Series.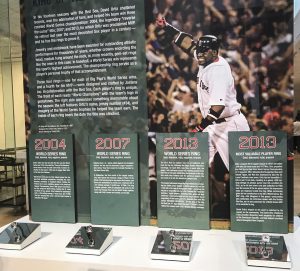 A bright spot occurred this week despite the Red Sox's travails. David Ortiz, known to baseball fans everywhere as Big Papi, threw the first pitch in Monday night's series finale against the Yankees. The fans went wild, his former teammates embraced him, and his speech to a sold-out crowd at Fenway brought tears and cheers.
To recap, Big Papi played 14 seasons for the Red Sox, including on three World Championship teams, before retiring in 2016. He was the heart of the team and remains immensely popular in Beantown, where he still maintains a home.
Big Papi is a bear of a man with an ebullient personality. Years ago, I arrived at Fenway a couple of hours early for a game and noticed a crowd gathered at one of the entrances. It was where the players drove into the stadium's parking garage — for players and staff only. I managed to wheedle my way to the front (being short has its benefits); a few moments later Big Papi drove up in an expensive sports car, the top down. He stood up and waved his cap a few feet away from where I was standing. It was then I realized how truly big David Ortiz is, like a human version of a 300-year-old live oak tree.
He has a heart to match his size and came through dozens of the time in the clutch to lead the Red Sox out of the 86-year World Series championship drought that finally ended in 2004. The horrific Boston Marathon bombing occurred in 2013 just as the baseball season was beginning. Big Papi played a huge role in rallying the city. When the Red Sox returned to Fenway from a road trip after the bombing, Ortiz stood in the midst of Fenway and delivered an ad-libbed 54-word speech. It ended thusly: "This is our (expletive deleted) city. And nobody's going to dictate our freedom. Stay strong."
The Red Sox went on to win their third World Series in a decade that fall, and Ortiz was the Series MVP. If there was ever any doubt who was the most popular person in Boston, that settled it.
On June 9, Ortiz was back in his native Dominican Republic, hanging out in a bar with friends when he was shot in the back. It was supposedly a case of mistaken identity in a botched attempt to kill a drug dealer. The Red Sox swiftly dispatched a jet to bring Big Papi back to Boston, after initial surgery on the island. He suffered damage to his colon and liver and had his gall bladder removed. Red Sox fans — indeed baseball fans everywhere — were horrified.
Exactly three months later, on Sept. 9, Big Papi strode out onto the field and tossed the first pitch to his former teammate, Jason Varitek. It was a bit high, but the retired catcher nabbed it.
Once again, Ortiz, now 43, grabbed the microphone, looking healthy and flashing his famous smile. Here in part is what he said: "I want to thank all of you for all the prayers, all of them came home," Ortiz said. "I really appreciate it. Thank you very much. I want to thank my former teammates for being there for me. And also, all of them came home to check on their boy… God bless you all. Go Sox."
Welcome home, Big Papi.
Leave a reply
Fields marked with * are required