My beloved Red Sox and the nearly-as-beloved-but-not-quite Houston Astros are locked in a tight series for the American League pennant, with Game Six coming up tonight. The Astros whacked the Red Sox in the last two games at Fenway. We had hoped to be at Minute Maid Park along with son-in-law Matt and daughter Mere, who are leaving for Germany for a year or so in a few weeks on a work-related project. Alas, a sick kitty waylaid those plans, so once again I'll listen to the game through satellite radio and magically streamed through my hearing aids. I don't have access through television, since it isn't being streamed on the platforms we use. Oh, well.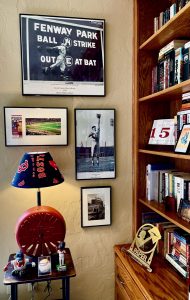 The last time we saw the Red Sox was at Fenway Park in June 2019. That seems like a lifetime ago. They lost badly, and I can't remember who they played. But it was a lovely early summer day in one of my lifelong shrines, with good company and a cold Sam Adams beer. When the pandemic struck and turned the baseball season upside down in 2020, I quit paying attention. The Red Sox were having a lousy season, and it just seemed weird to care about baseball or other sports while hunkered down at home.
When baseball season began this year, we were fully vaccinated. I took interest again, which is mainly by keeping up through the local newspaper and going to the Red Sox's website. I rarely watch a game until playoff time. I rarely watch any sporting events anymore. It takes up time I could be doing something productive, like driving a tractor or researching a new book. Like most Red Sox fans, I had low expectations for the team this year, especially after an extended losing streak in August knocked them out of first place and barely hanging on for one of the wild-card spots. I began to perk up when we beat those damn Yankees in a one-game playoff. They dispatched Tampa Bay in short order and headed to Houston. OK, now they had my full attention.
|———|
Fifty-four years ago, along with my dad, brother Scott and best friend Bruce Courtemanche, I sat in right field in Fenway Park for the next-to-last game of the season, against the Minnesota Twins. They called the 1967 season "The Impossible Dream," because the perennial cellar dwelling Red Sox were just one game out of first place with two games remaining. That's back in prehistoric times, when there was just a 10-team American League and the same for the National League. There were no divisions like today, which extends the season several weeks. That's OK by me, unlike the designated hitter rule, which I still consider an abomination.
My dad bought tickets early in the season, never expecting the BoSox would be in the pennant race. And on that sunny afternoon in September, we were inside Fenway watching my hero, Carl Yastrzemski, playing left field. Yaz won the Triple Crown that year, leading the league in batting average, home runs and RBIs. It wouldn't occur again for 45 years, until the Yankees' Miguel Cabrera did it in 2012.
The Red Sox beat the Twins as we watched in person, then won again the next day to win the American League pennant for the first time since 1946. The Curse of the Bambino would continue, however, as the lost the World Series to the St. Louis Cardinals. Being at that game is one of those indelible memories of childhood. I'm sure you have similar ones; at least I hope so.
|———|
While I'm rooting for the Red Sox because I am genetically unable to do anything else, being a third-generation fan, it's perfectly fine if the Astros make a return trip to the World Series. I will figure out how to actually watch the Series and root for whichever of these two gutsy teams ends up facing either the Dodgers or the Braves, battling it out for the National League title.
Next summer, Good Lord willing, we'll be in Fenway at least once. It has been too long between visits.
Leave a reply
Fields marked with * are required