AUSTIN — I am taking another deep dive into the 1840s, inside the Lorenzo de Zavala State Archives and Library, a handsome structure located on the east side of the Capitol grounds. I was last here in late March, perusing through printed copies of the San Augustine Red-Lander for a book project. I had planned to return much sooner, but life intervened — selling one house, buying another, tackling the task of taming 57 acres of mainly timber but still with plenty to mow.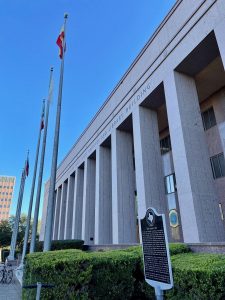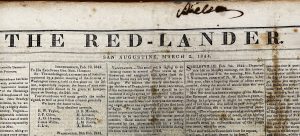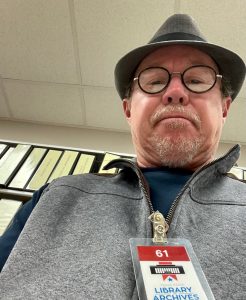 The grass is at last fallow, so I booked my usual hotel by Lady Bird Lake and planned with the good folks in the archives to take another look at their hard-copy collection of Red-Landers, an influential newspaper when Texas was an independent nation. I wrote my master's thesis for The University of Texas at Austin on the paper while running a successor weekly in San Augustine. The pandemic provided time to get a good start on expanding it into a book.
Since March 2020, I have spent dozens of hours downloading and transcribing hundreds of articles since digitized and widely available, mainly through the Portal to Texas History and newspapers.com. However, this batch of printed copies at the state library has never been digitized, so I had to wait for the library to allow in-person patronage after a COVID-19 vaccine was available. Now, eight months later, I was back to complete the task.
This is slow work. I take a cellphone photo of the front page so I know the date, and then photos of articles that might be of interest. When I get home, I'll have to download several hundred images onto my Mac, select each file and add the date, since the camera just assigns each image a jpeg file number. It is rather laborious. All that file renaming must take place before I can even begin transcribing the new articles. This type of work takes patience and a willingness to just slog through it. So far, not counting what I am capturing on this trip, I have transcribed 200,000 words of articles from the Red-Lander and several of its contemporaries — far more than will appear in the book, which likely will be about 60,000 words. By comparison, Crime and Punishment consists of 211,591 words. It would be a crime for me to punish my sparse audience of readers with a 200,000-word book.
Still, it is always better to work with too much material than too little. So I slog on, aware that at some point I will have to actually write the book and stop the research. As a historian friend who has published several well-regarded biographies and histories wrote me, "There comes a point when you have to call it a day." In other words, stop researching and start writing.
But not yet.
There is something magical about turning the pages of an actual newspaper, published 180 years ago. San Augustine then was called the "Athens of Texas" (mainly by its boosters), Sam Houston practiced law for a time and was the county's congressman between presidential terms. Rip Ford, who later became famous, or infamous as a Texas Ranger (depending on your perspective) placed an ad in the Red-Lander for his medical practice. The town boasted two institutions of higher learning — San Augustine University and Wesleyan College.
I finished up by late afternoon Monday with the last of the print copies, then checked to see if the microfilm division, located on the other side of the corridor, had copies of any of the Red-Lander's contemporary newspapers. (Or as they called it in the 1840s, cotemporaries.) It turns out they did, so I began going through those on Tuesday morning, making pdfs of articles of note, mainly comments about the Red-Lander or articles reprinted from it. Alas, I ran out of time not quite halfway through one of two reels.
A return trip is in order, hopefully before Christmas. I'm not quite ready to call it a day on the research just yet.
Leave a reply
Fields marked with * are required