I hugged my two oldest daughters this week for the first time in more than a year. It felt wonderful.
While we have seen each other a few times during this pandemic, it was always at a safe social distance, masked and outside. Since I received my second vaccine dose more than two weeks ago, it was time for a pair of hugs from Kasey, 41, and Meredith 39. Both daughters and their husbands received their first dose of the Pfizer vaccine in recent days.
First came a day trip to Houston, on a pleasant March Sunday with a cloudless sky and temperatures hovering around 70. It was a perfect afternoon to sit outside at City Acre Brewing and visit with Mere, and son-in-law, Matt, the
owner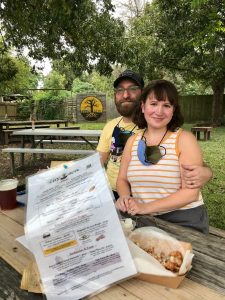 s of this fine brewpub/restaurant. I chowed down on the famed City Acre burger, made of venison and pork, mopped up fries with ketchup, and sipped on one of Matt's fine IPAs.
Despite Gov. Abbott's ruling to open Texas and end the mask mandate, City Acre will continue to require masks of patrons and workers and have outside dining only, since their taproom is small. That is a wise move, one that nearly all their customers have praised since they announced it. The tables outside are spaced at least 15 feet apart, so patrons can remove their masks once seated.
Matt and his employees grow much of the fruit and vegetables used in making the various beer brands and served with the food. Much of it took a beating during the mid-February storm, but he is hopeful the fruit trees will come back in spring, which is officially about a week away. City Acre has survived Hurricane Harvey, whose rains flooded the taproom and brewery up to nearly 2 feet; a yearlong pandemic that required them to quickly pivot to take out and delivery for a time; and then a crippling ice storm. They have been open nearly 5 years now and have a loyal clientele. I'm proud of Mere and Matt's resilience and ability to roll with the punches. If you're ever in Houston, stop by. Check out their menu and facilities at cityacrebrewing.com.
When it came time to leave, both Mere and I donned our masks. I reached over and gave her a big ol' hug.
|———|
Two days later, I headed to Tyler to eat lunch with Kasey, and her husband, Jeff, outside at The Grove. We have met at this spacious venue three times in the past year. Kasey was on spring break from her stressful job teaching young autistic children for Tyler ISD. Jeff is still recovering from injuries in a car wreck last year — before the pandemic. It's been a rough year, but they have persevered, stayed safe and are feeling hopeful. They're also continuing to wear masks and avoid indoor crowds.
I checked and learned that Tyler ISD intends to continue to require faculty, staff and students to wear masks through the end of the school year, as are nearly all the districts in East Texas. Not all, but most. There is little doubt that is the wis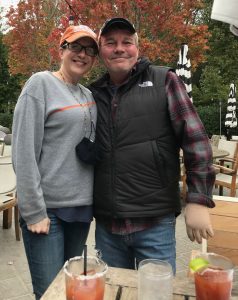 er move. After all, semester's end is only a few months away. Why take the risk of infecting teachers who have not been able to get both doses of the vaccine and gotten past the two-week period after the second shot to achieve maximum immunity?
Jeff and I talked sports, as always. We were both rooting for the Tampa Bay Buccaneers in the Super Bowl. The Bucs won decisively with the GOAT — Tom Brady — at the helm. Jeff and Kasey used to live in Florida, and his parents still live there. While I was disappointed that Brady left my team, the Patriots, I wanted to see him win another ring. At 43, he is still an amazing athlete.
It was a pleasant visit on another springlike day. Kasey and Jeff tricked me and had arranged to pay for the meal and drinks before I could grab the ticket, which was a kind, generous gesture. As we stood to leave after a couple hours visiting, I hugged my first-born for the first time since last January.
As I said, those hugs felt great. There is light and hope ahead in 2021.
Leave a reply
Fields marked with * are required