Now it's all I can do just to get out of bed
There's more in the mirror than there is up ahead
I smile and I nod like I heard what you said every time
So run another rack
Pour another shot
You don't get it back so give it all you got
While you still got a more or less functional body and mind
— If It Don't Bleed, by James McMurtry
The Friday before Thanksgiving, I walked Pancho's pasture, spreading more ryegrass seed, this time with a borrowed hand spreader. It consists of a canvas sack that can hold 25 pounds of seed, a hand crank and a shoulder strap. I am trying to thicken the pasture up about a month after first seeding it with a different borrowed seeder that hooked to the tractor's PTO. That planting came up nicely but a bit thin in spots. I figured it was worth investing another 40 bucks of seed.
It was a cloudy, windy afternoon, temperature in the 50s — perfect weather for working outside. I was listening to James McMurtry's latest album, The Horses and the Hounds, on earbuds as I walked around spreading the ryegrass seed. Pancho the Donkey dutifully followed me.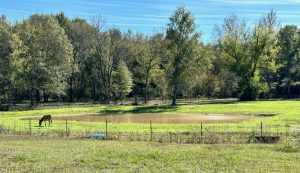 I was thankful. How could I not be?
This year has flown by. Years tend to do that when you reach a certain age. I am there, maybe a bit past there. As McMurtry noted, there indeed is more in the mirror than there is up ahead. I smile and nod quite often when I have no idea what someone just said, especially in the library where people tend to whisper. Even with hearing aids, it seems I spend an awful lot of time asking folks to repeat themselves. On the plus side, I believe I have a more-or-less functional body and mind. Some days, one or the other works better than others.
|——|
I fried an 18-pound turkey for Thanksgiving, my second year to do so. After borrowing an electric fryer from a friend, I bought one for myself. This appliance is fairly idiot proof, always a good thing when you combine boiling oil and yours truly. It comes with a thermostat, timer, and a hinged c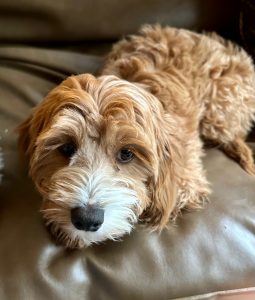 over. The only perilous moments are dipping the turkey into the peanut oil and taking it out. In both cases, I wore thick rubber gloves and safety goggles.
Once again, I am thankful to have gotten through a holiday meal without a trip to the emergency room. That has not always been the case. The last major mishap was slicing a chunk of my index finger while carving a ham at Christmas a few years back, which required nine stitches. Eating fried turkey may seem unhealthy but actually is not, as long as one peels off the skin. And the meat is heavenly moist, especially when injected beforehand with Tony Chachere's Famous Creole Cuisine butter marinade. We will be eating leftover turkey until Christmas, looks like.
|——|
I am especially thankful for cold weather and frequent rain. A cold, rainy Thanksgiving just feels right, unlike some years where I am wearing shorts and sweating. Later today, I will climb into the attic and begin hauling down crates of Christmas decorations. My goal will be to not fall down – or up – the steep pull-down stairs. Daughter Abbie, home from graduate school, will be enlisted as the designated crate catcher at the bottom of the stairs. I will hang the garland and battery-operated lights along the fence at the entrance to our farm, while Abbie and my Beautiful Mystery Companion do the interior decorating. This is usually an all-day affair, but it certainly beats shopping on Black Friday. That is something I strictly avoid.
|——|
We have a new member of our family on this Thanksgiving, for which I am especially thankful. A cavapoo rescue puppy (a mixture of a Cavalier King Charles Spaniel and a poodle) came on board earlier this week. We named him Gatsby. His photo accompanies this piece, along with an image of Pancho's Pond.
We can already tell Gatsby is going to be a good boy. I am certain you will hear more about him in weeks ahead because I do love to talk about our critters.
Happy Thanksgiving, my friends, and God bless. 
Leave a reply
Fields marked with * are required