The tornado sirens began blaring early Easter morning, as nearly ceaseless peels of thunder sent the dogs scurrying to hide beneath our feet. We still had power, so I checked the weather radar online. I then walked around, peering out the large picture windows that are the main architectural feature of our house. That's what East Texas men do when the tornado siren sounds: stare out the window looking for the funnel cloud. Of course, if I actually saw one, it would be too late to do much about it.
Meanwhile, my Beautiful Mystery Companion, who had already been up a couple of hours, was checking out the Facebook Live page of a television meteorologist on her phone. He was up early on Easter, trying to keep his viewers safe. That's admirable. Mark Scirto of KLTV displayed an image of downtown Longview, about two miles away from our home, and strongly advised everyone to seek shelter. I decide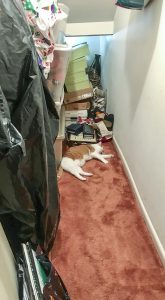 d it was time to stop looking out the windows. I locked the dogs in an interior bathroom. My BMC and I got into the closet under the stairs, along with Tater the Blubba Nugget cat, who is always up for a new adventure. Now we were really sheltering in place.
The storm passed. We came out of the closet and freed the dogs. The power was still working, which was a pleasant surprise. Just two days earlier, an electrician installed a house generator that powers our entire house. From a safe distance, as I wore a mask, he cut the power to our house late Friday afternoon to test it. The generator, powered by natural gas, immediately cranked up. He had me turn on all three AC units. The generator didn't skip a beat. When we didn't lose power from the storm on Easter morning, I can't say I was disappointed. That would be rather selfish. Our neighborhood is prone to losing power, so there would be other times the not-inconsiderable investment in the generator would pay off.
|———|
My BMC prepared our delicious Easter lunch from thawed Christmas-dinner leftovers — Cajun-fried turkey, ham and creamed corn — plus pea salad and a green salad. We timed it so we sat down at the dining table at precisely noon, with a phone screen propped against the table's bunny centerpiece. She had discovered famed opera singer Andrea Bocelli at that hour was performing at the cavernous Milan Cathedral, or Duomo di Milano.
Before beginning, Bocelli, who is blind — a fact I only learned a few days later — said in part, "Thanks to music, streamed live, bringing together millions of clasped hands everywhere in the world, we will hug this wounded Earth's pulsing heart."
Before rows of empty pews, accompanied by an organist and presumably a camera crew, Bocelli beautifully sang four pieces inside: Panis Angelicus, Ave Maria, Sancta Maria and Domine Deus. Scenes of empty streets in Rome, New York City, London and elsewhere flashed on the screen.
For his final piece, Bocelli walked out the front door and to a microphone placed in front of the cathedral. He sang Amazing Grace in English. One would have to possess a heart of stone to remain dry-eyed. Check it out on YouTube or by Googling it, as more than 33 million people have done.
|———|
Just outside the dining-room window are several bird feeders. A female cardinal, with its brown feathers and scarlet-tinged wings, came by for a snack. A few minutes later a male cardinal — bright red and larger — took his turn at the feeder. Not sure if they were "in a relationship." After that, a little house sparrow (I think) took a turn at the feeder. The birds seem both more prevalent and louder this spring, their trills and calls filling the trees. Or maybe I'm just paying more attention in these unsettling times.
We tried going for a walk, but it was too humid to trek very far. The forecast on this Easter afternoon predicted temperatures would drop as a cold front swept through. Sure enough, the front came through, kicking up the wind, sending limbs and leaves skittering across the deck and yard. It started raining again, though not as hard as it had in the morning. Minutes later, we lost power. The generator kicked on seconds later. Talk about fortuitous timing. We spent Easter evening still sheltered in place, watching Netflix, grateful we had invested the money.
Our power was restored about 24 hours later, but others in our neighborhood were out several days. Luckily, the weather is cool. This was an Easter we will long remember.
Leave a reply
Fields marked with * are required