SHREVEPORT – We stayed up way past our bedtime Thursday night.
Months ago, I bought tickets to see Jason Isbell and the 400 Unit at Shreveport Municipal Auditorium, a venerable venue just off downtown. I nearly forgot about purchasing the tickets until I heard a promo on Red River Radio a few weeks back and reminded my Beautiful Mystery Companion of our rare weeknight date. We headed east for an early dinner before the concert.
Isbell, 44, is a four-time Grammy award winner whose evocative lyrics and impeccable musicianship have drawn a legion of fans, including me. I jumped at the chance to see him and his group, whose title comes from a colloquial name for the psychiatric ward of the Eliza Coffee Memorial Hospital in Florence, Alabama — Isbell's native state. The 400 Unit's members have changed over the years but often include his talented wife, Amanda Shires, a singer-songwriter as well who plays a mean fiddle. Alas, she was not on stage for this tour.
It is hard to classify Isbell's music, as my BMC and I discussed on the drive home, as the clock approached midnight, and we risked turning into pumpkins. His roughly 90-minute set alternated between eardrum-splitting rock that literally shook the house, especially from our vantage point close and above the stage in an opera box. A ceaseless light show cast baubles of light across the enthusiastic floor audience, reminding me of the old Longview roller skating rink of my youth. Isbell would quickly accept an acoustic guitar from a roadie and switch to one of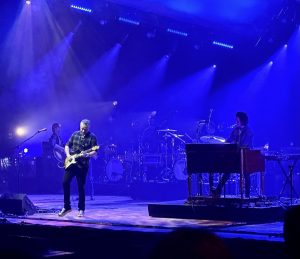 his beloved ballads, providing us old folks a sonic respite.
Not complaining, though. I am a devotee of his music, finding his lyrics deep and intelligent, his voice close to flawless, his introspection admirable. Isbell started in the business young, playing at the Grand Ole Opry when he was 16 and joining the Drive-By Truckers at 22. Six years later, in 2007, the band fired him because of his drug and alcohol abuse, which had led to uneven performances on stage. He went solo with decent success, but finally garnered widespread acclamation after Shires and some of his friends staged an intervention in 2012. Isbell entered a rehab center in Nashville and has been sober since. He talks about sobriety often.
Isbell's most commercially successful song, "Cover Me Up," was recorded by both Morgan Wallen and the Zac Brown Band. Isbell's version is featured in the hit series "Yellowstone." It is a love song to Shires, with a set of lines that always draw a roar from the audience: I sobered up, I quit all that stuff, forever this time. The irony that his fans are steadily downing beers and booze while cheering those lines is likely not lost on him. He played it for his encore on the night we attended.
My BMC and I talked about the concert on our way home, trailing 18-wheelers and concentrating on staying within the white lines of I-20. A few days earlier, I had visited my ophthalmologist, a former neighbor, who asked if I had trouble driving at night. I pleaded guilty. He said it was common at our age (we're close in years on the planet) and advised concentrating on the hash-marks and shoulder line instead of looking at the bright lights of oncoming traffic. Good advice.
My BMC is not nearly as familiar with Isbell's music as I am, since I have spent hours on the tractor wearing earbuds and listening to him. "I couldn't understand most of the lyrics," she said.
I get that. Especially on the songs backed by a pair of drummers, two guitarists, a bass player and a keyboard player who also played a mean squeezebox, the lyrics were difficult to make out if the song was not already familiar to you. We certainly had different experiences that night.
As the concert ended, we walked outside into a lovely cool evening, past the iconic statues of Elvis Presley and James Burton in front of the auditorium. "Man, my ears are ringing," I said. My BMC said hers were as well. It has been decades since I have attended a concert that loud, I noted. "Same," she replied.
"I should have taken out my hearing aids," I mumbled as we got to the car. I don't think she heard me. I silently hummed "Cover Me Up" most of the way home. I plan to be on the tractor sometime this weekend, reliving that concert by listening to Jason Isbell and the 400 Unit through my earbuds.
I must admit, being at work in the library by 7:30 the next morning was a challenge. There is a nap in my future.
Leave a reply
Fields marked with * are required