"You are entitled to your opinion. But you are not entitled to your own facts."
—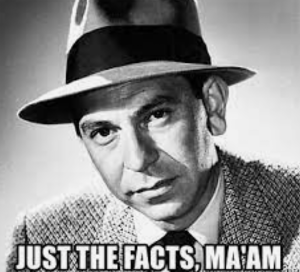 The late Sen. Patrick Daniel Moynihan
|———|
Facts are under attack from many quarters these days. This was brought home to me personally when I called a gentleman who wanted to talk about something in Capital Highlights, the weekly column I write for Texas Press Association. It runs in about 100 papers across the state, mostly in weeklies and twice-weeklies still bringing the news to their small-town readers. In Capital Highlights, I aggregate news out of Austin by culling from state agency email newsletters, condensing reporting from the state's metros, and other sources. I don't do any original reporting, just try to concisely provide readers the facts and attribute the source, whether its attempting to expand broadband internet, the fallout from the failure of the state's power grid in mid-February, or the goings-on in the Texas Legislature.
What I don't provide is my opinion, unlike in this space. In fact, since I began writing Capital Highlights in late January, I have steered away from voicing my opinion in writing on all matters political. It is not hard to do. What I think is not likely to change someone's mind who is 180 degrees politically in the opposite direction.
So, back to the gentleman on the phone, who volunteered that he is 75 and lives in Deep East Texas. He objected to something I wrote when the Texas Secretary of State's office announced recently it was going to conduct a "full forensic audit" of four Texas counties for the 2020 election: Dallas, Tarrant, Harris and Collin counties. That office didn't say why, and since the actual office of secretary of state remains unfilled, it appeared difficult for reporters to find out. In that paragraph, I mentioned that a similar audit conducted in Maricopa County, Arizona's most populous county, confirmed that Joe Biden carried the county — actually by a few hundred more votes than originally tallied. That audit was conducted at the behest of state Republicans, who accepted the audit's results.
The gentleman on the phone didn't accept the results. He wanted me to watch the full video of the audit's presentation. I pointed out that every reputable news organization out there reported the same news about the Arizona audit. Several quoted Karen Fann, the Republican Senate President saying, "Truth is truth, numbers are numbers." Fann led the move to undertake the audit.
That wasn't good enough for the gentleman on the phone, who used a term I have long despised because of how it is now used: fake news. I managed to change the subject to high-school football, and the conversation ended amicably. But it got me thinking once again about how we are increasingly becoming a society divided by folks who have decided to disbelieve facts that do not fit into their worldview. As someone who has spent his life doing my utter best to accurately report whatever I was covering, it is discouraging to watch people go down conspiracy rabbit holes.
The 2020 election is just one example. More than half of Republicans polled believe the election was stolen from Trump, who lost by more than 7 million votes and a decided margin in the Electoral College. Despite dozens of lawsuits and recounts, the result stood because the fact is that Biden won. One might not be happy about that and be critical of Biden. That's your right as an American citizen. But claiming the election was stolen flies in the face of common sense. It is, to put it bluntly, ludicrous.
As the delta variant swept through the country spiking hospitalizations and deaths, our ICUs and funeral homes have filled with the unvaccinated, too many of whom refused to take the shots because they don't trust the government – even though the vaccines were developed by private companies, admittedly relying heavily on federal funding.
While it is possible to contract COVID-19 after being vaccinated, it is rare for that person to develop serious symptoms. The Centers for Disease Control tracked more than 600,000 COVID-19 cases from April through mid-July. Those who were unvaccinated were 4.5 times more likely than the fully vaccinated to get infected, more than 10 times more likely to be hospitalized and 11 times more likely to die.
Doctors, nurses, and other healthcare workers are exhausted and frustrated. In Gregg County, where we live, less than half of those eligible for the vaccine have taken it, according to the Texas Department of State Health Services. In neighboring Upshur County, it's a paltry 35%. The fact is, the COVID-19 vaccines work, just as they do for measles, diphtheria, tetanus, hepatitis A&B, polio, and other maladies. That is just a partial list of the vaccines that children must receive in order to attend Texas public schools.
The list goes on: climate change deniers are on the list as well — another group that turns a blind eye to facts. Obviously, some folks belong to all these groups of fact-deniers. I'm not sure where we are headed as a nation, with millions of us unwilling to accept facts or proven science if they don't support their preconceived notions.
John Adams, our second president, nailed it when he said, while successfully defending the British soldiers who fired upon the crowd at what became known as the Boston Massacre: Facts are stubborn things; and whatever may be our wishes, our inclinations, or the dictates of our passion, they cannot alter the state of facts and evidence.
Amen to that.
Leave a reply
Fields marked with * are required