A man who works with his hands is a laborer; a man who works with his hands and his brain is a craftsman; but a man who works with his hands and his brain and his heart is an artist.
—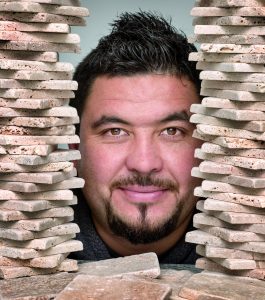 Louis Nizer
By the adage above, written by an acclaimed attorney and author (he successfully represented humorist John Henry Faulk in his libel case against a far-right anti-Communist group), Marcos Nuñez is an artist. His medium is tile and wood. As I write this, he and his wife, Sonja, are installing ceramic tile in all three of the bedrooms in our new place out in the country. They have already ripped the carpet out of the two smaller bedrooms. In its place is going ceramic tile that looks just like hardwood but sells for a fraction of its cost. They will tackle the master bedroom tomorrow, after which we will once again put our house back together, hopefully for a good long time.
Marcos told us about this unique tile when he replaced the carpet in the living room right after we moved in last summer. We forked out the money for high-quality engineered hardwood (a big step above laminate). It was pricey but looks lovely. The bedrooms will be equally attractive for a whole lot less money. The only carpet remaining is in the closets. Its days are also numbered. The previous owner left several boxes of leftover tile from the house's original construction inside the wellhouse. I likely will tackle this project myself. After all, they're closets.
We have never liked carpet. It just collects dust and dirt and is a magnet for the five critters who live inside this house to barf up hairballs, chew upon, scratch with claws until strands become unraveled. The critters — three cats and two ankle-biting dogs at last count — aren't going anywhere, so we're making the floors pet-proof. My Beautiful Mystery Companion plans to buy a few rugs that will be machine washable. I might wake up tomorrow to discover a new critter in the house. My BMC is the critter whisperer.
Back to Marcos, a cheerful man in his mid-30s from Guanajuato, Mexico who came to the United States at age 14 in order to build himself a better life. He first went to Michigan and then came to Longview at the urging of friends to learn how to install hardwood flooring and ceramic tiles. He worked for a couple of flooring companies before striking out on his own about seven years ago. We started hiring Marcos about nine years ago on the recommendation of a local flooring company, who promised we would be pleased with his work. Indeed, we were. He has done at least a half-dozen jobs for us in that time, each with precision and clear pride in his work.
On his Facebook page, Marcos posts photographs of his most creative work, such as beautifully tiled herringbone showers, others with marble walls, elaborate kitchen backsplashes and more. By comparison, replacing our floors is a fairly simple job, though not one I wish to tackle. It doesn't matter to Marcos whether the job is huge or small. He approaches each with the same craftsmanship and strong work ethic. In the course of shopping for flooring, we went to three different stores. A sales rep at each establishment asked if we already had an installer. Each time, I asked, "Do you know Marcos?" The reply in each case was along the lines of, "Oh yes! Marcos is the best."
I greatly admire men and women who take pride in their work, charge a fair price and complete it in the agreed-upon time period. In the 14 years that I have been back here, we have assembled a list of folks we go to for the various tasks that are part of owning a home: electrical, plumbing, roofing and floors. I prefer to hire folks who might charge a bit more but deliver quality work. Marcos and Sonja certainly fit that description.
It is an honor to have gotten to know them over the years.
Leave a reply
Fields marked with * are required