GREEN MOUNTAINS, VERMONT — Growing up in New Hampshire, our family didn't have much dealings with Vermont. We often spent a week in Maine during the summer, crowded into a modest cabin at York Beach – which was only an hour east of Allenstown, where we lived. As a kid, it seemed like a epic journey to travel to York, an hour-and-a-half drive in our 1964 Comet with the three boys in the backseat, all of us dodging cigarette ashes flicked out the window by our parents. Ten years ago, I returned to York with my Beautiful Mystery Companion and daughter Abbie. The drive from Boston seemed to take hardly any time at all, and the beach was beautiful as I remembered, the Nubble Lighthouse at Cape Neddick still drawing hordes of tourists.
Our other recreation destination as a kid was Boston, about the same distance from home as York. My dad was an artist, so we often visited the world-class Boston Museum of Fine Art. Our parents would also take us to the Boston Museum of Science, where I played chess against a computer and lost badly. Then there was Fenway, still a shrine visited regularly.
The only time I recall being in Vermont is passing through when we traveled to Sherbrooke, in the Quebec province of Canada. My maternal great-grandparents lived there, along with a scattering of other relatives. My grandparents had emigrated from Quebec in the 1920s. My Canadian kinfolks were short, squat and spoke broken English at best. French was their native tongue, as it was my grandparents. I picked up a smattering of French as a kid that has long disappeared. About all I knew about Vermont from adulthood is Ben & Jerry ice cream, Bernie Sanders and Green Mountain coffee. Out of sight, out of mind.
We visited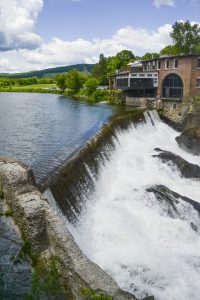 Vermont last week, headed to a wedding deep in the Green Mountains. Cursory stops were made in New Hampshire on the way — in Concord, my birthplace, and Manchester, where we searched in vain for Democratic primary candidates. Soon, this state, which hosts the nation's first presidential primary, will be filled with candidates — but not on this sleepy June morning. About an hour later, we crossed into Vermont on a two-lane highway where the speed limit of 45 mph was a distant dream largely out of grasp.
Not that I minded, as we passed through one movie-set town after another. Once we dropped off the father of the groom at the wedding resort venue, my BMC and I went exploring and continued to do so the next day. Rutland was hosting a Farmer's Market on Saturday morning, which we showed up for and bought some maple syrup for a friend. The produce and flowers are stupendous in New England, largely because the growing season is so short that these lovely plants must produce in a hurry. We left with plans to hike a small piece of the Appalachian Trail we had spotted on the main highway into town. An equally luscious growth of poison ivy on both sides of the narrow trail convinced us to beat a hasty retreat and get back to the rental car.
We drove to Quechee Gorge, known as "Vermont's Little Grand Canyon." The gorge slices through the Ottaquechee River some 168 feet below the bridge on which we stand, A curved chain-link enclosure prevents accidents or suicides. The builders kindly left several small rectangles large enough to poke a camera lens (or a smart phone if one is brave enough) through to take an unobstructed photo. Of course, I oblige.
In nearby Quechee Village, we enjoy a marvelous lunch overlooking a cascading waterfall on the Ottaquechee, which runs through this picturesque hamlet. The Simon Pearce restaurant is part of a restored textile mill that now houses a turbine-powered glassblowing studio. The glassware is beautiful, high-dollar stuff. In the restaurant, where voices must be raised over the waterfall's roar, we nibble on cheese and bread, munch on apple slices, sip mimosas and count our blessings.
Our time in Vermont was too short to pay it justice. We plan to return, though not in January.
Leave a reply
Fields marked with * are required