FORT WORTH – On a windy, warm winter Sunday we explored downtown Cowtown, from Sundance Square to the various stores filled with visitors, the fountain ringed with children. We turned a corner onto Throckmorton Street. A red neon sign glowed in a storefront window: BOOKS. Another sign at the front door proclaimed: Yes, We're Open. A faded neon sign hung from the building's corner: Barber's Book Store: Est. 1925.
Of course, we had to enter.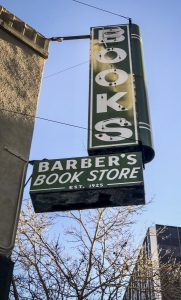 Barber's Book Store is said to be the oldest bookstore in the state. It has been in its current location since 1955. At 95 years old, that sounds reasonable. A Google search did not find any other contenders for the title. Speaking of titles, Barber's, also known as Back Door Books, is crammed with thousands of used books, from rare first editions to pulp fiction and everything in between. Its classification system is eclectic, with pieces of paper taped to shelves indicating cookbooks above and military history below. Books were piled everywhere, along with assorted statues, paintings and other ephemera.
I went to Barber's website – Our store looks mysterious at all hours and in all weather conditions — and Facebook page, which are as eclectic as the shop itself. The latest post, titled Tales from Texas #7, tells the story of Barsik, a recently adopted neutered tomcat – his days of romance behind him, poor fellow, as Phillips wrote. Barsik means "leopard" in Russian, and he was acquired to address the store's rodent issue. Phillips decided to get a mouse from the pet store, which stock them for people who own snakes. I will let him tell the story from there: This particular mouse was a pitiful gray and white specimen, in his little cardboard box. Not sure how to arrange the introduction, I let the creature loose in the empty bathtub and slid the frosted glass partition closed. I then slid the partition back, tossed in Barsik, and closed it again. I retreat downstairs. Then hear a racket above. Barsik is howling in terror. I return. The coward has pushed the heavy frosted glass panel back with his little paw and made his escape. The mouse is still there, shaken but unharmed. So I release him in the vacant lot behind the QT convenience store, where he'll have a wide selection of snack foods and beer. No doubt he's still there, retired from the reptile feeding business and enjoying an honored position among his descendants.
Barsik eventually caught on to catching mice on his own, as evidenced from a photo accompanying Tales from Texas #7, showing the cat with one in his mouth.
|———|
            I mark cities and towns mainly by the locally owned bookstores in which I have browsed. I rarely visit Austin with going to Book People, the state's finest independent bookstore now marking its 50th year in business. I'm overdue for a visit to Murder By The Book in Houston whose slogan is Where a Good Crime is Had by All. The Lark & Owl opened in Georgetown last year and features a bistro, in addition to the books. If you make it out to Canyon in West Texas, stop at Burrowing Owl Books on the square. And be sure and check out Tim Bryant's The Bosslight in downtown Nacogdoches, with its carefully curated collection of books and eclectic art.
|———|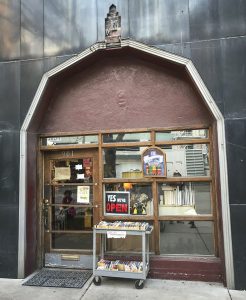 My Beautiful Mystery Companion and I browsed for a time in Barber's. I bought A History of Christianity by Paul Johnson, one of my favorite historians, while my BMC picked up a novel. The fellow at the desk rang up our purchase – about $13 — and remarked that he was a huge fan of Johnson, who wrote a wonderfully concise biography of Winston Churchill, among many other books.
I have added the book to the growing to-read pile on the shelf.
Leave a reply
Fields marked with * are required