As 2018 draws to a close, I can't help recalling another tumultuous and eventful year. It brings comfort to realize our country managed to survive the horrific events of 1968 a half-century ago, though not without scars and lasting damage — both to people and to the nation's democratic institutions. I feel that way now about much of what has transpired this year. Once again, our country is in chaos. I pray the coming year brings a semblance of sanity, but I'm not putting money on it.
It's fair to say that 1968 proved to be the most eventful year in my young life. It forever shaped the person I became, for better or worse. When the year began, I was 12 years old and in seventh grade in Allenstown, N.H. Our class photo reveals 15 kids — five girls and 10 boys, all white. Of the 10 boys, three were named "Gary." Many of my classmate's surnames were of French-Canadian origin — Courtemanche, Rondeau, Beauchier and Severance. My mother's family's surname was Bourque. Her parents had emigrated in the 1920s from Sherbrooke in the Quebec province of Canada. French was my grandparents' native language.
Allenstown had about 1,800 residents in 1968, while Pembroke, its abutting neighbor, was home to more than 4,000 folks. The area is designated by the census as Suncook, named for the river that bisects the two towns before it feeds into the larger Merrimack River. A smelly yellowish waterfall flowed beneath the bridge in 1968, the river polluted from the textile mills operating along its banks. The waterfall remains, the mills are long gone — some converted to condos — and the water is again clean.
I discovered earlier this year French-Canadian Catholic parish that served Suncook was known colloquially as "Frogtown," an ethnic slur for folks of French-Canadian descent. I read a book by that name by a retired professor who grew up there about a decade before I did. I never heard the term Frogtown growing up, though I attended St. Jean the Baptiste Catholic Church, and received First Communion and Confirmation there. Of course, there is a lot I didn't know and much I learned in 1968.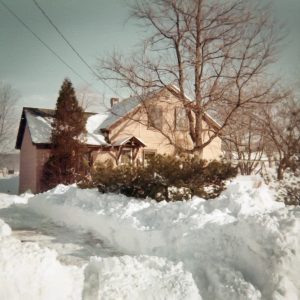 The New Hampshire primary was the first in the nation, then and now. Lyndon Johnson was running for his second full term and the Vietnam War raged. An upstart senator from Minnesota, Eugene McCarthy, mounted what looked like a longshot battle against an incumbent president, making the war his primary issue. On the day of the primary, I was persuaded by a pretty college girl to hand out McCarthy flyers in front of a Pembroke church serving as a polling place. McCarthy finished a strong second to LBJ, who dropped out a few weeks later after Robert Kennedy also joined the race. I avidly followed those political races, as I do a half-century later.
A month or so later, Martin Luther King, Jr. was gunned down in Memphis, Tennessee. Two months later, Bobby Kennedy was shot and killed mere hours after winning the California primary. The world seemed to be spinning out of control, and we were moving to Texas just a few weeks after Kennedy's death — to the state and two hours east of where his brother had died in Dallas.
As 1968 came to a close, we had begun adapting to East Texas — to mild winters by comparison, to a much-larger school district grappling with the challenges of integration, to making new friends after having spent my entire life with the same small group of boys and girls. In the skies above, just four days before Christmas, Apollo 8 became the first manned spacecraft to leave Earth's orbit. The three-astronaut crew — Frank Borman, James Lovell and William Anders — reached the moon, orbited it 10 times and began its return to Earth on Christmas Day.
Before they began their return journey, the crew read the first 10 verses of Genesis, then said, "And from the crew of Apollo 8, we close with good night, good luck, a Merry Christmas — and God bless all of you, all of you on the good Earth."
The year of 1968 ended on an upbeat note, after all. We could use a similar uplifting — and shared — experience as this year closes out. But time is running out.
Leave a reply
Fields marked with * are required