JEFFERSON, TEXAS – This town of about 1,850 residents dates back to the early 1840s. Jefferson, in Marion County, is about 40 miles northeast of Longview, and was named by its founders for Thomas Jefferson. It quickly became an important riverport, sitting on the edge of Big Cypress Bayou and Caddo Lake. The first steamboat to arrive in Jefferson was the Llama, which traveled from what is now Shreveport across Caddo Lake and into Big Cypress, there into town. The steamboats shipped cotton and other products downstream to New Orleans, coming back with visitors and potential settlers.
These days, Jefferson remains a tourist attraction, with a bevy of 19th-century homes and buildings, bed and breakfasts, and the Excelsior Hotel, open since the 1850s. One of the landmarks is the Jefferson Carnegie Library, built in 1907 with a gift from philanthropist and industrialist Andrew Carnegie, who made his fortune in the steel business, then sold it for $303 million (the modern equivalent of nearly $10 billion) in 1901, to what became U.S. Steel. The Scottish-born Carnegie proceeded to give away a boatload of money building public libraries, a total of 2,811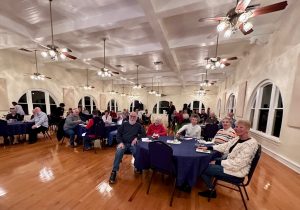 with about two-thirds of those being in the United States. Most of the remaining are in Britain, Ireland and Canada.
Only a handful of Carnegie libraries still operate as libraries, including the stately two-story structure in Jefferson. The first floor holds the books and other materials, while the second floor is used for community meetings. With its large arched windows, tall ceiling, burnished wood floor and bank of ceiling fans, it is a lovely space. I was lucky enough to be invited there last week to talk to the Friends of the Jefferson Carnegie Library about the @longviewtx150 book O. Rufus Lovett and I published in 2021 to mark Longview's sesquicentennial, as well as my four previously published books. Before and after the talk, I could set up and sell books. Goodness knows I have plenty of copies for sale.
I was not exactly expecting a large crowd to show up on a Thursday night in Jefferson. Book talks at the level of authorship where I reside rarely attract folks lined up to buy my books. The most successful event I have had over the past 18 years of selling one book or another was in Taylor in 2018 at a local brewpub. I was peddling (still am, if you are interested, at garyborders.com) Yours Faithfully: The Life and Writings of H.B. Fox, the Circleville Philosopher. Fox lived in Circleville, five miles north of Taylor, on a ranch still run by his daughter and son, Carol and John. Carol lives in the 19th-century house and has become a close friend.
At that book signing, in Fox's adopted hometown, the line briefly went out the door. I had made a deal with the brewpub owner that I would buy a beer for anyone who bought a book. Folks will do the darndest things for a "free" beer.
I figured I might sell a few books in Jefferson, meet some interesting people. I did not expect 50-60 folks to show up and basically fill that second floor. It helps the Friends put out a nice spread of hors d'oeuvres and desserts and serve wine. Still, this is clearly a close-knit group of folks, who love their library. As well they should.
They listened respectfully, laughed at my lame one-liners and seemed to enjoy the presentation. I had sold several books before talking and figured folks would just head for the exits when it was over, the food eaten, the wine consumed. Instead, a goodly number lined up to buy more books. Soon I had a wad of cash and a few hundred more bucks in my Square account. I walked out of there with a handful of unsold books (I had more in the Rav if needed) and a fresh appreciation for the good folks of Jefferson. I hope to return soon with My Beautiful Mystery Companion to stroll the streets, admire the historic buildings and grab a good meal.
Thanks, Friends of the Jefferson Carnegie Library, for a very pleasant evening.
Leave a reply
Fields marked with * are required