AUSTIN — As my Beautiful Mystery Companion and I trudged the Lady Bird Johnson Lake trail on an abnormally warm December afternoon, we approached the edge of Zilker Park. During the Christmas season, it is the site of the Trail of Lights, the city's massive celebration attended by as many as 400,000 folks during its two-week run. Although the lights weren't visible in the late afternoon, the song blaring from the speakers came through:
I really can't stay, baby it's cold outside
I've got to go away, baby it's cold outside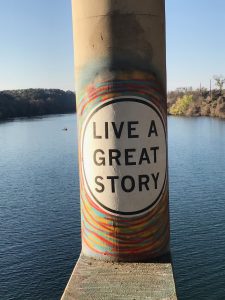 At the time, it was 81 degrees. A sheen of sweat coated my back as cyclists whizzed by, dogs strained at their leashes, and joggers pushed strollers. Another "winter" day in Austin, though a cold front was promised.
This welcome has been so nice and warm, baby it's cold outside
Look out the window at the storm
The irony was not lost. It's a challenge to get in the Christmas spirit when sweating in December. But downtown Austin looked festive, and walking that trail is one of our favorite activities, even if too much of the landscape now is dominated by high-rise condos. We put in nearly 7 miles that afternoon, admiring the ducks and geese, the rowers on the water, the late afternoon sun sparkling through the trees.
The Trail of Lights has been an Austin institution since 1965. I recall going to Zilker in late 1980, the night after John Lennon was murdered. Underneath one of the moonlight towers in the park, Christmas lights strung from its top to the ground, people had gathered to mourn the slain Beatle. They held hands and sang: All we are saying, is give peace a chance.
|———|
As predicted, a cold front swept through the city as we slept. I went downstairs to get coffee and ventured outside. We were staying at the Holiday Inn – Town Lake (the lake's former name). It has been my preferred hotel in Austin for more than three decades, because the trail beckons just outside its doors, which is where I headed once again.
But only briefly. A north wind was creating whitecaps on the water. I practically had the trail to myself, which should have been a clue. After about 15 minutes, reason reasserted itself, and I hustled back to the hotel.
|——|
That night, we headed to the Armadillo Christmas Bazaar with two free admittance tickets, courtesy of the hotel. The bazaar is in its 45th year. It started in the long-gone Armadillo World Headquarters. On Dec. 30, 1980, on the next-to-last night of its existence, I listened to and photographed Taj Mahal. Nearly 40 years later, he is still performing. We saw him a few years back. The bazaar began when singer-songwriter Lucinda Williams suggested the AWHQ provide a dry and warm place during winter for the street vendors on the Drag. Now, the bazaar hosts 200 vendors and features top-notch music each night of its 12-day run.
Gary P. Nunn took the stage a few minutes after 7 p.m. One of the original "cosmic cowboys," Nunn just celebrated his 74th birthday. A genuine cattleman who once ran an 800-acre ranch in Oklahoma while still performing, he wore blue sunglasses, felt hat and an ascot tucked into his shirt. His signature song, "London Homesick Blues," remains the anthem of Austin City Limits on PBS. Every seat was taken while several dozen of us stood to listen. I looked around at a small sea of gray ponytails and weathered, smiling faces. For a little while, it felt like I was back in old Austin, where it only took a few minutes to drive up North Lamar to The Stallion and get a chicken-fried steak plate for $2.99 (I think). Or drinking a $1 longneck at Liberty Lunch, both Austin landmarks long gone.
Everything changes, and certainly Austin has been transformed, in both good and bad ways. There's too much traffic, too many high-rises, and some of its iconic establishments have gone the way of the wrecking ball. But enough of its singular charm remains to persuade me to return a few times a year, visit Book People, walk the trail and count my blessings — especially that I'm not stuck on MoPac on a daily drive to work.
Besides, the view down Congress Avenue at Christmas is worth the trip.
Merry Christmas, everyone.
Leave a reply
Fields marked with * are required