DOWNTOWN DALLAS — We have returned to our favorite hotel, in Texas at least, the stately Adolphus Hotel for a single night made possible by saving up points over a couple of years that bring the price down to something that we will not feel guilty about spending for a single night. This is a quick trip to enjoy a wonderful meal and a concert at Café Momentum, a few blocks from the hotel.
I have written about Café Momentum before. It is not just a restaurant but a mission whose motto is Eat. Drink. Change Lives. Founded eight years ago, by Chad Houser, the restaurant's mission is to take the Dallas community's most at-risk youth, those who have been involved with the judicial system, and give them one-year paid internships in all areas of the restaurant — while also helping them learn social and life skills. At the same time, Café Momentum consistently is rated on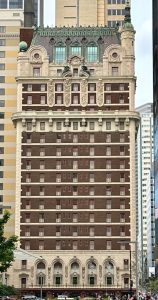 e of the top restaurants in Dallas. In Dallas, more than 1,000 young men and women have gone through the program, which has expanded into Pittsburgh and Nashville, with other locations to come. As its website says, "We aim to transform the lives of justice-involved youth across the country through the Momentum model and its ecosystem of support." Count us among its supporters.
My Beautiful Mystery Companion and I have fallen in love with this place, its mission, and the concert series held on a Sunday night several times a year. The young men and women working as servers are impeccably polite and a genuine jo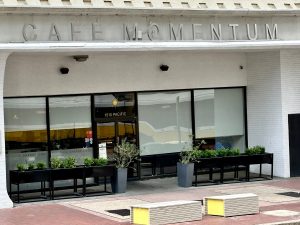 y to be around. It is an intimate setting, about 75 seats, with the stage in the back. After the worst of the pandemic passed — and we were vaccinated — we came here in the summer of 2021 to listen to singer-songwriter Mary Gauthier, a longtime favorite of ours. She stopped by our table briefly before performing. We told her we had tickets to see her in nearby Winnsboro for March 2020. "Yeah, I know how that turned out," she replied, or words to that effect. So we came to listen to Gauthier at the Café Momentum.
On this evening, we are listening to the amiable and downright funny Max Gomez, a 36-year-old singer-songwriter from Taos, New Mexico — one of our favorite places on the planet. Gomez has great stage presence and is a fine acoustic guitarist. We hope to possibly catch him playing in Taos on our next trip west.
|———|
The AT&T Discovery District is across the street from the front of the Adolphus. A solicitous desk clerk pulled strings and got us a corner room with a view of The Media Wall, an exterior LED screen that is 104 feet tall and 84 feet wide. It shows fascinating abstract designs and digital art. We opened all the curtains until time to go to bed so we could enjoy the screen. The Discovery District is a popular place for folks to hang out. On the Sunday we strolled around, families were taking photos of their freshly minted graduates. A ring of restaurants and cocktail bars borders one side of the district. It always seems to be a happy, safe place, family friendly and well-staffed with security.
Our last place to visit was Thanks-Giving Square, across the street from Café Momentum. Opened in 1976, it features a landscaped garden with several fountains that help mask the traffic sounds, and a non-denominational chapel whose ceiling is graced with 73 panels of stained-glass. In the garden, four young women were practicing some type of ritualized dance, while another woman worked on her laptop. Inside the chapel, a man sat with his back to the entrance, presumably mediating. Finding such a peaceful, beautiful spot in the heart of downtown Dallas was uplifting.
We were blessed with beautiful weather, highs in the 70s and a nice breeze. It was an excellent way to continue our celebration of the end of the semester and spend time outside be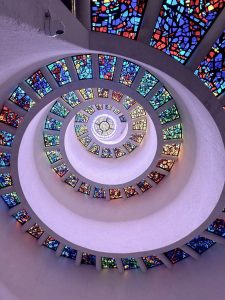 fore the heat of summer arrives. That ought to be any day now, I fear. No matter. We feel lucky to have such a lovely two-day vacation in downtown Dallas.
Leave a reply
Fields marked with * are required