BOSTON — Man, I love writing that dateline, at long last, three years since we last stepped out of Logan Airport into temperatures 30 degrees lower than in Texas. We are here on the first day of summer, after enduring, like most of you reading this, a scorching end to spring that presages a torturous next three months. Heck, maybe four.
So here we are in our favorite city to visit, my mother's birthplace, a place steeped in history and so familiar to us by now that it is like returning to an old friend. An expensive friend to be sure. Boston is not a cheap place to visit. After staying home for three years because of the pandemic and then our mid-summer move last year to the farm, it is worth the expense.
We spent our first day just walking around, breathing cool air and reveling at being back in the Back Bay, our favorite place to stay. This time, our hotel is in the theater district, which borders Chinatown. It is an easy walk from here to Boston Common and the Public Gardens, two of the city's most beloved parks. We always visit them while in Boston. How could you not?
Folks have been hanging out in Boston Common for nearly 400 years, since 1634. It's America's first public park. The Colonial soldiers mustered here to conspire for the American Revolution, but the British Redcoats had control of it for eight years, until 1776. Anti-slavery activists gathered here before the Civil War. The Common has been the site of civil rights speeches by Martin Luther King, Jr. Pope John Paul II celebrated Mass here in 1979. And every day in the summer, people gather in the common to sprawl on the grass, walk their dogs, play baseball, or watch their kids wade in the shallow pool that becomes an ice-skating rink in the winter.
Across the street is Boston Public Garden, a mere youngster by comparison, having been established in 1837. It claims to be the first public botanical garden in the United States. Many exotic species of plants and trees were established there by designer George Meacham. The Paget family has operated the famous swan boats in the lagoon for more than a century. Statues of Union generals and leaders line the sidewalks, along with a famed statue of George Washington astride a horse. The Make Way for Ducklings status celebrates the famed children's book by the same name. They feature a mama duck followed by eight ducklings, the patina of their bronze heads worn by countless little hands stroking them.
When walking in early morning, one inevitably spies a small group of Chinese folks practicing tai chi, or a fellow playing what I learn online is an erhu, a two-stringed instrument also called a Chinese violin. He is playing for tips, seemingly every day. At least he has been there every time we have visited the Public Garden over the past 13 years.
In the garden's lagoon the famed swan boats quickly line up with riders. The pontoon boats, powered by a young person peddling to power the paddles, are still owned by the Paget family. They have operated here since 1877.
We decide to take a ride, my first one as far as I can recall. I get a 50-cent discount for being old, while they charge my Beautiful Mystery Companion full price, totaling $8.50 for both of us. It is a pleasant 15-minute trip around the lagoon, followed by ducks, watched from the shore by a pair of Canada geese. My BMC notes that is almost certainly the cheapest thing we'll do in Boston.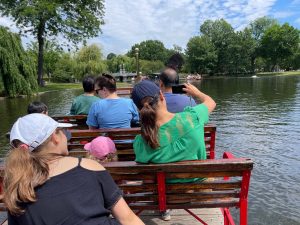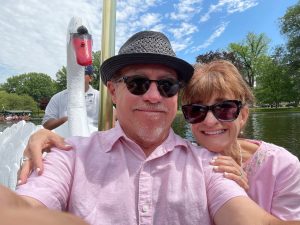 Except for strolling the lovely grounds of this Public Garden and the Boston Common, surrounded by manicured beauty and reveling in the cool breeze. We never broke a sweat during the nearly 12 miles we walked on our first full day back in Beantown. This promises to be a lovely vacation.
First in a series.
Leave a reply
Fields marked with * are required