It started with a plate. Not just any old plate, but the Longview centennial plate hanging in the wet bar in our home. It was produced in 1970 at the behest of the centennial committee. My dad, Brad Borders, was commissioned to create the artwork, which consists of a half-dozen pen-and-ink sketches of historic sites and events from Longview's first 100 years. As some of you have already read, that plate sparked the idea that became @longviewtx150, a project to celebrate Longview's sesquicentennial.
Two-and-half years ago, I bought O. Rufus Lovett, noted photographer and my brother from another mother (as we say), a beer at the Lone Star Ice House and pitched the idea of profiling 150 people in Longview from all walks of life. I would write the profiles, and he would make the portraits. We would see if the Longview Museum of Fine Arts would host an exhibit and try to find a sponsor for publishing a coffee-table book. Rufus readily agreed, and we were off to the races.
For me, it would be a way to honor my dad's work. While he made a living as a sign painter and was considered one of the best in East Texas, back before computers dominated the craft, his true love was drawing and painting in a variety of mediums — pen and ink, charcoal, pencil, and acrylic paint. He drew the scenes on the plate hunched over a drawing board in the carport that my maternal grandfather traveled from New Hampshire to enclose for his studio. Whenever I think of Grandpa Bourque, I am reminded of that John Prine song, "Grampa Was a Carpenter:"
Grandpa was a carpenter
He built houses, stores and banks
Chain smoked Camel cigarettes
And hammered nails in planks
He was level on the level
And shaved even every door
And voted for Eisenhower
'Cause Lincoln won the war.
Prine's song described Grampa Bourque perfectly.
|———|
            The projec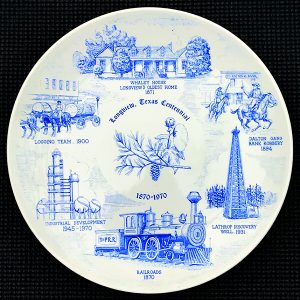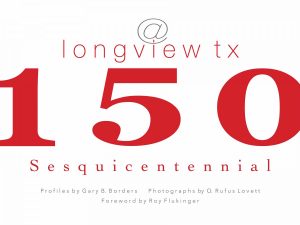 t came together, eventually, despite a pandemic that forced us to operate remotely, me finishing the few remaining interviews by phone or email, Rufus shooting outside from a safe distance and wearing a mask. We spent the summer designing the book at my computer, side-by-side while wearing masks. The project's launch had been delayed from July to April because it did not feel safe to hold a large indoor gathering. That delay gave us extra months to constantly tweak the book, for Rufus to create a compelling cover and title page, for numerous friends and family to edit what I had written. After more than 45 years working as a writer, I have learned one can't have too many copy editors on a large-scale project — and even then, something will slip by everybody.
So, at 5:30 tonight (April 16) the exhibit of all the photographs and accompanying profiles opens at the Longview Museum of Fine Art. The book goes on sale as well. VeraBank and its CEO, Brad Tidwell, underwrote the entire printing costs of the 136-page book, produced locally by Hudson Printing. All proceeds go the Women's Center of East Texas. In addition to the museum, the book can be purchased at Barron's, Books & Barrel, and Hope's Closet for $30. The stores are forgoing their normal cut of the sales so that WCET gets the full amount from the sales. Thanks to all of them for doing that.
This is one of the most fulfilling projects I have worked on in my career. It was a privilege to meet people from all walks of life, to learn more about folks I knew, but not well, and to get a better understanding of the range of talents and community-minded citizens who live in Longview.
About the same time my dad created the centennial plate, he enlisted me to help with printing bumper stickers in that converted carport studio. The stickers said, "Lucky Me, I Live in Longview," with a shamrock included. The same sentiment thrives today, 50 years later. We are, indeed, lucky to live here.
@longviewtx150 is on exhibit until July 3. In addition to the Longview stores listed above, copies can be purchased online at longviewtx150.com.
Leave a reply
Fields marked with * are required