Spring Slow In Arriving On The Farm
by admin | April 1, 2022 6:50 am
Spring is slow in coming to our farm, about 8 miles north of town. I had no idea being a few miles north would make a difference, but it does. On campus, the annual wave of pollen is well underway, coating vehicles with a sickly yellow powder, stirring up sinuses and, when the wind is blowing hard, leaving a haze in the air. But here on the farm, on April 1, the wave of pollen hasn't quite arrived. The oak trees are reluctantly starting to bud out.
Just the other day, the three Bradford pear trees in the front pasture started flowering. I walked out to take a few photos, in my ongoing project to photographically document the seasons here in our first year. I haven't mowed out front since late fall and noticed thousands of tiny wildflowers popping up — no idea what kind but certainly pleasant to look at, mainly white and light purple blooms. To narrow it down, I used an app on my iPhone to identify the flowers carpeting the pasture — white clover, Texas toadflax, purple deadnettle and dandelions. (I could identify the latter without the app.)
The previous day, my Beautiful Mystery Companion sent a New York Times article about a town in Wisconsin that launched a program called "No Mow May." Allowing one's normally manicured lawn to grow wild attracts bees of all types and butterflies as well. She suggested we follow a similar path. Being in East Texas, I am suggesting we call it "No Mow April." By May the heat will likely have burned off the wildflowers, leaving only the wiry Bahia grass to survive.
"No Mow April" will be a test of my natural OCD inclinations. I spent last Saturday mowing and bushhogging in back and around the shop and plan to scalp the small, fenced backyard and plant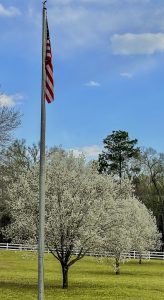 [1] Bermuda grass seed this weekend. But I am going to do my best for the butterflies and bees in the front pasture, which is about three acres — a nice spot for nature to take its course. We'll see if I can stand living in such a laissez-faire landscaping mode. It won't be easy. My BMC might have to hide the keys to the zero-turn mower.
|———|
            The red-winged blackbirds, who by the thousands spent winter here on the farm, nesting in the forest at night and coming out to eat by early morning, seem to have headed north. They swarmed our two bird feeders through the winter, often devouring their entire contents in a day. The chickadees and cardinals had to wait their turn or settle for what spilled onto the ground as often a dozen blackbirds latched on to the feeders, swinging them precariously back and forth.
I don't know if they headed to Oklahoma or Arkansas or just concluded I wasn't filling the feeders often enough and went down the road. After going through a $40 bag of bird seed in less than a week, I decided the blackbirds needed to become a bit more self-sufficient. I left the feeders empty for several days. When I refilled them finally, the only customers were the cardinals and chickadees, and an occasional blue jay. So, as they say, "Bye Bye, Blackbird!"
|———|
            In the latest hog report, the fellow who voluntarily comes out to try to kill hogs said his game camera hasn't shown any hogs near the feeder in weeks – just four doe and two bucks who regularly spend the night there. Patrick's day job is as a handyman and painter. Some might recall last week I wrote about my struggles to repair a balky silverware drawer. I finally gave up and called him. He happened to be free and came out within an hour, fixed the drawer in about that much time. This led me to conclude that my repair skills are waning, and it is worth it to hire someone competent and not waste – literally – 10 hours trying to fix it myself. Stick to what I can do, like mowing once April passes.
While here, Patrick decided to move the game camera toward the back. I seriously doubt the hogs have left our 57 acres. They're out there somewhere tearing up our land. I am confident of that. Patrick will let me know what the camera finds.
Endnotes:
[Image]: http://garyborders.com/pages/spring-slow-in-arriving-on-the-farm/spring-trees/
Source URL: https://garyborders.com/pages/spring-slow-in-arriving-on-the-farm/
---